EmergencyMedicine.in
EMinside
Favorites
Recommended
Let Others Know
Verified Site
Visitor Stats
Tranexamic Acid to be Made Available for Free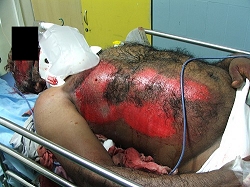 Tranexamic Acid to be Made Available for Free
21-May-2011
The doctors who conducted this research are now calling on governments and aid agencies around the world to make the cheap life saving trauma drug free for patients wherever in the world they may be.
- MedIndia.Net
Click here to read full article
Read full research publication from PLoS ONE
(
Cost-Effectiveness Analysis of Administering Tranexamic Acid to Bleeding Trauma Patients Using Evidence from the CRASH-2 Trial
)
Read our June 2010 news article on Tranexamic acid in trauma
______________________________________________________
UPDATE 07-Jun-2011
Tranexamic acid added to WHO Model List of Essential Medicines
(See section 10.2 in page 76)
http://www.who.int/selection_medicines/Complete_UNEDITED_TRS_18th.pdf

(1.25Mb)
.
Comments
No Comments have been Posted.
Post Comment
Please Login to Post a Comment.