Navigation
EmergencyMedicine.in
EMinside
Favorites
Let Others Know
Life Responders
Recommended
Verified Site
CRASH2 Trial Results Out - Tranexamic Acid Recommended
CRASH2 Trial Results Out - Tranexamic Acid Recommended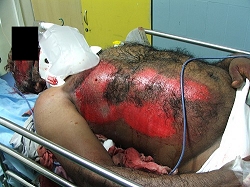 The results of the international CRASH-2 trial, show that early administration of tranexamic acid (TXA) to patients with recent, severe bleeding injuries saves lives, with no evidence of adverse effects from unwanted clotting.
The CRASH-2 trial was a large, randomised trial involving over 20,000 adult patients in 274 hospitals across 40 countries. It is the first trial of TXA in injured patients, although smaller trials have shown that it reduces bleeding in surgical patients.
Severely injured adults were enrolled in the trial if they had significant bleeding, or were at risk of significant bleeding and were within a few hours of injury. They were randomly allocated to receive either one gram of TXA by injection, followed by another one gram in a drip over the following eight hours, or a matching placebo. The researchers studied the numbers of deaths in hospital within four weeks of injury in the two groups and found that TXA reduced the chances of death due to massive blood loss by about one sixth.
The researchers estimate that administering TXA soon after injury could prevent up to 100,000 deaths per year across the world. In India, this treatment could prevent more than 12,000 deaths per year.
Click here to read the full publication from TheLancet.com

www.thelancet.com
More News on TXA
Cheap drug could save tens of thousands of accident victims by stopping bleeding (LA Times)
Drug will save lives of accident victims, says study (BBC)
Cheap drug could save tens of thousands (Forbes)
.
Post Comment
Please Login to Post a Comment.