EmergencyMedicine.in
EMinside
Favorites
Recommended
Let Others Know
Verified Site
Visitor Stats
AHA ECC 2010 Guidelines India Rollout
AHA ECC 2010 Guidelines India Rollout
07-Mar-2011
Editors Desk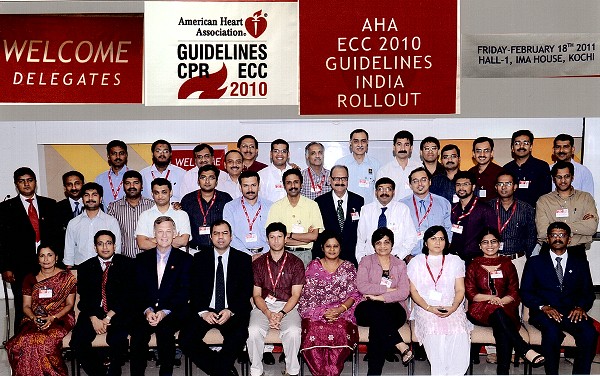 The American Heart Association (AHA) and Emergency Cardiovascular Care (ECC) 2010 Guidelines were officially rolled out in India at an AHA Instructor Update held at Kochi on 18 February 2011.
Senior faculty & instructors from all AHA International Training Centers (ITC) in India were present. The ITCs included Apollo Hyderabad, IIEMS Kottayam, SRMC Chennai, St. Johns Bangalore, Manipal University, Fortis Delhi, EMRI Hyderabad, Academy of Traumatology Ahmedabad, Maulana Azad Medical College Delhi and Phoenix Institute Delhi. We were also happy to notice that more than half of the instructors were working emergency medicine physicians from EM training institutes like Apollo, SRMC, MIMS and Fortis.
Laurence King, AHA Director for Asia Pacific Region, said that 13 million people were trained by AHA at 220 centers across the world. He said that the 17 ITCs in India (
Click here for list of ITCs
) with their faculty & instructors have supported AHA training. AHA had a massive plan to train 25 million people per year by the year 2015 and its reading material was available in 17 different languages.
Dr. Harper, an International Consultant of ECC, coordinated the rollout of Basic Life Support (BLS), Advanced Cardiac Life Support (ACLS) and Pediatric Advanced Life Support (PALS) courses. From March 1st, all AHA BLS, ACLS & PALS courses will teach the 2010 guidelines.He said that AHA recommendations were made with approval from the International Liaison Committee on Resuscitation (ILCOR)
www.ilcor.org
which consisted of resuscitation councils from US, Europe, Australia, New Zealand, South Africa and Asia. He questioned on why India did not have its own resuscitation council or was not on the Asian Resuscitation Council. He also said that India had unique opportunities for research in resuscitation science.
Dr. T. V. Ramakrishnan, Head of Emergency Medicine at Sri Ramachandra Medical College Chennai, who was among the instructor faculty, mentioned that the Society of Emergency Medicine India (SEMI) could form the resuscitation council in association with the Societies of Anesthesia and Critical Care.
Dr. George Abhraham, Founder of IIEMS which hosted the AHA Update, said that this was the first time all senior instructors from the Indian ITCs were physically present in one location. He said that, collectively, their single goal was to develop training programs and to standardize resuscitation training. And that this was best done with the AHA.
Dr. Joginder Solanki, an AHA international faculty and one of the organizers, told EmergencyMedicine.in that he aimed for organizing more AHA Updates, to promote interaction between the instructor faculties of Indian ITCs, and to create a resuscitation conference.
We know that SEMI had proposed the formation of a resuscitation council in early 2000 and with its return to the mainstream; the Indian Resuscitation Council could soon become a reality.
- EmergencyMedicine.in
.
Comments
No Comments have been Posted.
Post Comment
Please Login to Post a Comment.