EmergencyMedicine.in
EMinside
Favorites
Recommended
Let Others Know
Verified Site
Visitor Stats
2011 Indian Emergency Medicine starts off with a Bang
2011 Indian Emergency Medicine starts off with a Bang
06-Mar-2011
Editors Desk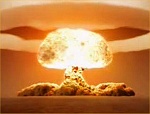 Emergency medicine (EM) in India started off with a loud bang in 2011. The last two months saw several important events, which highlighted the presence of an educated EM community in the country. A brief overview of each event is presented in the news articles which follow above.
.
Comments
No Comments have been Posted.
Post Comment
Please Login to Post a Comment.