EmergencyMedicine.in
EMinside
Favorites
Recommended
Let Others Know
Verified Site
Visitor Stats
College of Emergency Medicine Releases New Curriculum
College of Emergency Medicine Releases New Curriculum
Aug 13, 2010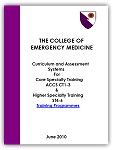 The College of Emergency Medicine (CEM) United Kingdom released a new & updated curriculum for emergency medicine yesterday. One of the main changes immediately noticed is that the ACCS rotation, which was 2 years earlier, is now 3 years.
The document can be download from the CEM official website
www.collemergencymed.ac.uk
Curriculum and Assessment Systems For Core Specialty Training

.
Comments
No Comments have been Posted.
Post Comment
Please Login to Post a Comment.