EmergencyMedicine.in
EMinside
Favorites
Recommended
Let Others Know
Verified Site
Visitor Stats
Dr. Suresh David speaks on Past , Present & Future of EM in India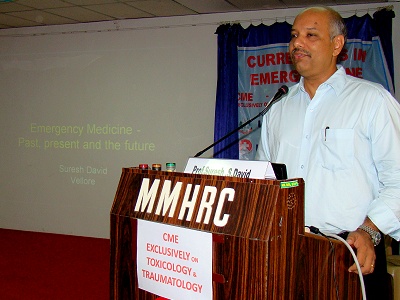 Dr. Suresh David, Professor & Head of Dept of Accident & Emergency Medicine, Christian Medical College (CMC), Vellore, India, is the senior most emergency physician in India with more than 18 years of EM experience and one of the pioneers for the development of emergency medicine in India. He is a honorary recipient of the Fellowship of Australian College of Emergency Medicine (FACEM) in 2006.
CMC Vellore has the distinction of having developed the first independent emergency medicine department in the country, in 1994. The 44 bed ED, with an annual flow of more than 45000 patients, has been conducting structured training in emergency medicine & emergency nursing since 1997.
The department faculty team presented various CME lectures in toxicology at Meenakshi Mission Hospital & Research Centre, Madurai, Tamil Nadu, India on 7th June 2009. Dr. David presented a talk on
Emergency Medicine in India - Past, Present & the Future
He said that EM is not yet officially recognized as a specialty in India and the main reason was due to the non-existence of EM postgraduate training by the Medical Council of India (MCI). The obstacles for EMs genesis in India included the inertia of policy makers i.e. MCI, who were unfamiliar to the concept of EM, unconvinced of its relevance in the practice of medicine and they believe that EM is still taught by respective specialties.
The pitfalls in the existing system were ineffective emergency departments or
casualties
, incompetent staffing and poor networking. He also said that EM training opportunities were only available at a small number of private institutes which included CMC, Vellore.
Dr. David also pointed out that the National Board of Examinations (which is another independent body responsible for postgradute education in India) was ready to recognize EM postgraduate specialty training but was hesitant to do it without MCI recognition. The previously available post MS fellowship was a poor substitute for basic specialty training and had a low uptake among specialists due to poor job opportunities.
He said that the main steps which would be needed are recognition of EM as a specialty by the MCI, implementation of PG training program and inclusion of EM training into the undergraduate curriculum. He also said that emergency physicians in India were a loose collection of clinicians with a common interest, most of them were half cooked and working in ineffective EDs.
The future cannot be predicted but EM popularity will rise when the PG program is on the horizon
- Suresh S David, 2009
Dr. Suresh David also informed that work was underway for a comprehensive textbook in emergency medicine which will focus on EM from the Indian perspective.
.
Comments
No Comments have been Posted.
Post Comment
Please Login to Post a Comment.