EmergencyMedicine.in
EMinside
Favorites
Recommended
Let Others Know
Verified Site
Visitor Stats
Rebel doctors target practicing emergency physicians and EM trainees in India
Rebel Doctors Attack Practicing Emergency Physicians and EM Trainees in India.
17-Jun-2017


Editors Desk

Reference/share this article
-
http://www.emergencymedicine.in/current/news.php?readmore=197
Emergency medicine related social media channels, in the last 3-4 weeks, witnessed a sudden appearance of a group of rebel doctors who are criticising the currently practising emergency physicians and EM trainees in India. Deliberate messages and cartoons depicting the older EM training programs in bad light were posted and discussed, resulting in angry responses from the EM community in India. A specific outcry that all EM residency programs, with exception of MD(EM) and DNB(EM), were fake, was also circulating.
Incidentally, the small group doctors who were involved seem to be recent graduates of one specific training program, MD(EM). It is unknown what incident has provoked them to resort to this. Sources indicate that one of the reasons is that an external party has started a false propaganda in an attempt to defame the very large community of EM physicians predominantly working under the banner of the Society for Emergency Medicine India (SEMI). The second reason is that some of these MD(EM) graduates failed to qualify for top positions in the emergency departments of corporate hospitals. Poor quality of training resulting from teaching by non-EM faculty and ill-equipped emergency departments, are the main reasons to blame for this situation. Hospitals looking for EM physicians now routinely check potential applicants for adequate credible experience, irrespective of their EM qualification. It would not be a surprise to see hospital managers rejecting inexperienced EM physicians.
One senior MD(EM) graduate said that he found it surprising that doctors were resorting to flaming on social media channels. He said that after looking at their online conversations he found it very obvious that none of them were aware of the history of development in India. And that there was plenty of incorrect information being discussed and this was fuelling further pointless debates among other amateur groups. Another doctor who was also MD(EM) said that he never had any problems with any other group and that everyone was contributing to EM in their own positive way. He said that there was no problem in securing good jobs as long as one had gained proper competence. He agreed that only few hospitals had good teaching.
A senior resident undergoing MRCEM training pointed out that this group had concluded that MRCEM was not recognised by MCI, whereas the truth was that MRCEM was being registered as additional PG qualification for many years and was adequate for the post of Assistant Professor as per MCI notification in March 2017.
Click here to look at MCI Notification 11MAR17

UPDATE!
30-Jul-2017 -
If MCI website has deleted the link, find it from our archive.

Many trainees of the Masters in Emergency Medicine (MEM) program were of opinion that they were happy with their training, experience and certification. They had absolutely no doubt about their job and career options, both in India and abroad, especially after looking at so many of their colleagues join higher specialist training in the United Kingdom. One trainee commented that instead of working together these rebel groups were resorting to such activities. She said it was clear that they have a lot of free time in their hands and are unlikely to be doing any constructive work for their own emergency rooms.

The recent online flaming incidents targeted at emergency physicians in India received a suspiciously coordinated boost from an unexpected source - Times of India, one of the leading newspapers in India. Times of India, on 8th June, published a very poorly researched and false article about emergency medicine residency programs in India. Facts & data were neither authentic nor correct, and statements which provoked hostilities within the EM community, were published. Majority of the EM pundits in India are of opinion that this is paid media operating for commercial gains. High quality journalism has gone to dogs, one said.
Click here to look at Illegal PG Degrees Plague Emergency Medicine_08JUN2017
Senior members within SEMI initially attempted to defuse rapidly developing conflicts via their internal channels, but when this proved futile, an emergency board circular was sent out to all SEMI members. SEMI is the oldest, largest and only organization representing emergency medicine professionals in India. It is a full member of the International Federation of Emergency Medicine (IFEM) and the only body representing India at IFEM.
Click here to look at SEMI Board Circular_08JUN2017

Contrary to expectations, the demand for the MEM training has suddenly shot up, with 4 more hospitals applying for the hugely popular MEM training program. A senior board member within SEMI said - We know what we are doing is absolutely right and for the need of the country. We have a huge responsibility towards our patients. And SEMI supports all academic training programs.
The emergency medicine environment in India seems to be now evolving and spreading at a faster pace than before. Lets keep watching!
EmergencyMedicine.in strongly condemns the publication of the scantily researched article - Illegal PG Degrees Plague Emergency Medicine - by Times of India.
We have received loads of screenshots from Whatsapp, Facebook and online forum conversations. These are not displayed here to protect identities of those involved.
Image (morphed to express the described situation)- Senior members of SEMI were successful in suppressing the developing conflicts within EM community.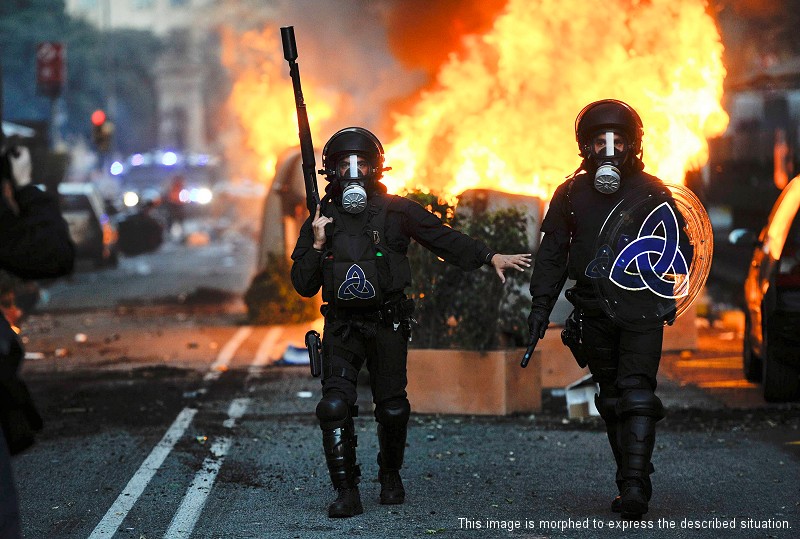 Copyright ©2017 EmergencyMedicine.in All Rights Reserved.
Unauthorized reproduction of this article is prohibited without written permission from the administrator
Comments
No Comments have been Posted.
Post Comment
Please Login to Post a Comment.