EmergencyMedicine.in
EMinside
Favorites
Recommended
Let Others Know
Verified Site
Visitor Stats
14 years imprisonment for assault on healthcare staff in Queensland
14 years imprisonment for assault on healthcare staff in Queensland
24-Nov-2014


Editors Desk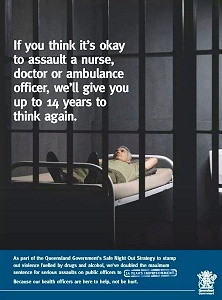 The Queensland government has decided to stamp out violence fuelled by drugs and alcohol using their Safe Night Out Strategy. Under its law, the maximum sentence for serious assault on a nurse, doctor or ambulance officer is 14 years! This is just what India needs right now.
Download PDF -
Safe Night Out Strategy - June 2014

Website -
Safe Night Out at Work
(If the video does not load, click here Safe Night Out Strategy for Health Workers)
Comments
No Comments have been Posted.
Post Comment
Please Login to Post a Comment.