EmergencyMedicine.in
EMinside
Favorites
Recommended
Let Others Know
Verified Site
Visitor Stats
Position Papers by the INDO-US Joint Working Group
Position Papers from the INDO-US Joint Working Group
11-Sep-2013


Editors Desk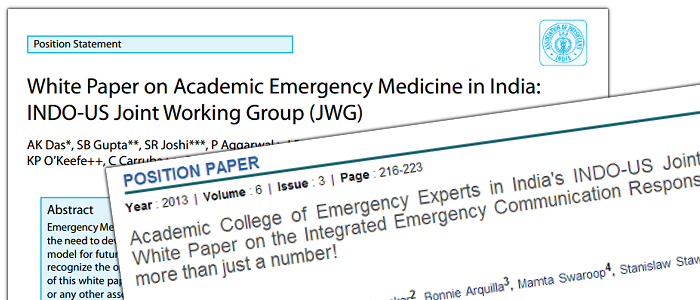 Under the leadership of the Dean - Indian College of Physicians, experts from India and the US formed a Joint Working Group. This group set the foundation for suggesting an educational model for Emergency Medicine Training in India.

Mission:
- Developing Specialty Residency Training.
- Creating Residency Accreditation Guidelines.
- Promoting Academic awareness for best practice models for Emergency Care in India.
- Standardizing pre-hospital and hospital emergency care across India in all sectors.
- Foster Academic Research in Emergency Medicine and Trauma in India

Vision:
In the next twenty years a majority of physicians providing emergency care will be residency trained and specialty certified in EM in India.
2013 - Academic College of Emergency Experts in Indias INDO-US Joint Working Group (JWG) White Paper on the Integrated Emergency Communication Response Service in India: Much more than just a number!
Anuja Joshi, Prasad Rajhans, Sagar Galwankar, Bonnie Arquilla, Mamta Swaroop, Stanislaw Stawicki, Bidhan Das, Praveen Aggarwal, Sanjeev Bhoi, OP Kalra
Journal of Emergencies, Trauma and Shock (JETS) July 2013
Read Article
2008 - White Paper on Academic Emergency Medicine in India: Indo-US Joint Working Group (JWG)
AK Das, SB Gupta, SR Joshi, P Aggarwal, LR Murmu, S Bhoi, T Sanson, KP O Keefe,
C Carruba, S Galwankar, B Arquilla, R Mittal
Journal of Association of Physicians, India. 2008;56:789-797
Read Article

____________________________
More similar articles can be found here.
Published Articles on the State of Emergency Medicine in India
.
Comments
No Comments have been Posted.
Post Comment
Please Login to Post a Comment.