EmergencyMedicine.in
EMinside
Favorites
Recommended
Let Others Know
Verified Site
Visitor Stats
Plagiarism of Emergency Medicine Literature - Part 1
Plagiarism of Emergency Medicine Literature - Part 1
18-Aug-2013


Editors Desk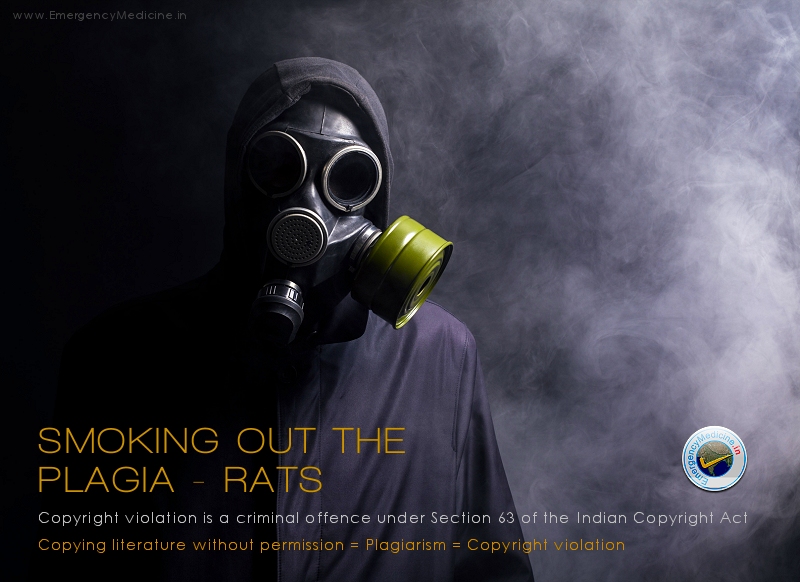 Dear Readers,
It has been quite a while since you would have noticed any news updates on EmergencyMedicine.in. We were sifting through a massive amount of published literature on emergency care, with a specific purpose.
EmergencyMedicine.in was created with a four point intention.
- To deliver the best guidance in the field of emergency medicine in India.
- To provide information which is trustworthy and reliable.
- To promote agencies which support the development of EM in India.
- To demote agencies which work against the best interests of EM s growth in India.
Since our websites inception in 2006, our team has put continuous energy on the first three goals. The significance of our 4th goal only stirred into our minds in the recent months. Over the last one year we have noticed a very serious & growing threat to the development of emergency medicine specialty in India,
PLAGIARISM
.
Plagiarism, the act of copying someone elses literature or publications, without permission, has become more rampant than ever. Individuals copying, publishing, and taking credit for other people's hard work are least of the problem. The main concern are large companies, healthcare organizations and influential people, who are giving full support to such criminals and their activity. We have uncovered several such instances where research papers, literature, and other work related to EM in India, has been illegally copied and published. Content created by popular authors, EM physicians from India & abroad, novice & experienced writers, important EM organizations, etc, and also from our own website EmergencyMedicine.in, has been found to be illegally copied and profited from.
Here are some screenshots of copied and original content which we have uncovered. There are tens of such articles in various journals, magazines, websites, newspapers, etc.
Official proposal letter

Conference website

Company website

Business magazine

Business website

On approaching some of the concerned individuals, many investigated, acknowledged and removed the copied content. However, one well known institute which commercially benefited from plagiarism, refused to investigate or even accept their wrong-doing despite presentation of direct evidence. Instead, multiple individuals from top management conveniently showed their clout and support for such activity.
When powerful organizations resort to supporting copyright violation, the original authors and writers are simply pushed aside. It would not be feasible for them to spend quality time and effort to write something useful which would help the growth of EM in India. Something which you would want to read. And this we dont like. Such plagiarists are not only misrepresenting the actual authors, they are also misleading the readers about the origin and source of information.
Some more screenshots of research articles from academic journals.
Journal article

Journal article

Journal article

The
worst
kind of plagiarism which we have uncovered is the fabrication of data & conclusions related to life-saving emergency patient care. There are hundreds of readers who are reading such fake research articles and implementing the recommended conclusions. The mortality and outcome of this in our community is unthinkable.
Journal article

Journal article

Doctors who are unqualified, untrained and inexperienced in the specialty of emergency medicine are responsible for many of these papers, created for personal and professional gain. So, at the cost of our widely read news updates, we had focused entirely on this issue for the last few months just to smoke out the
Plagia-Rats
which have burrowed themselves deep around us.
Our most sincere apologies to all our readers for not keeping you updated all this time. But we are back! For the specialty of emergency medicine in India. And for you.
Dr. Imron Subhan
Administrator
EmergencyMedicine.in
August 2013
Click here to read Part 2 of this article
Copyright ©2013 EmergencyMedicine.in All Rights Reserved.
Unauthorized reproduction of this article is prohibited without written permission from the administrator
.
Comments
No Comments have been Posted.
Post Comment
Please Login to Post a Comment.