EmergencyMedicine.in
EMinside
Favorites
Recommended
Let Others Know
Verified Site
Visitor Stats
Masters in Emergency Medicine (MEM) Graduation at Max Hospitals New Delhi
Masters in Emergency Medicine (MEM) Graduation at Max Hospitals New Delhi
17-Aug-2011


Editors Desk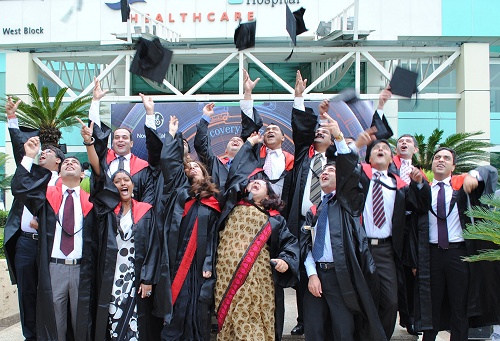 The first batch of emergency medicine (EM) residents who underwent the 3 year Masters in Emergency Medicine (MEM) at Max Hospitals Delhi, completed their course this month. The course is accredited to the Ronald Reagan Institute of Emergency Medicine (RRIEM) under the George Washington University, USA.
Dr. Jeffrey Smith, Professor of Emergency Medicine and Director at RRIEM,was present at a convocation ceremony held on 12th August 2011 at Max Hospital Auditorium, Saket, New Delhi. Dr. Tamorish Kole is the course director and Head of Department of Emergency Medicine at Max Hospitals.
15 emergency physicians who had enrolled in 2008, graduated from the program with all the deserved excitement.
This 3 year structured EM training is also conducted at 4 other institutes in India which include Malabar Institute of Medical Sciences at Calicut, Rabindranath Tagore Institute of Medical Sciences at Kolkota, Peerless Hospital at Kolkota and Moolchand Healthcare at Delhi.
The MEM residency locations are few of the many private hospitals in India which are generating locally trained & credentialed emergency physicians. MEM originated from an earlier program known as International Fellowship in Emergency Medicine (IFEM) which was of 2 years duration.
Read about Convocation at MIMS Calicut in August 2009
Read about Max Emergency Medicine Interest Group
Update!
Max Healthcare Confers Degrees on Its First Batch of EM Physicians
19-Sep-2011
Click here to read full article from Express Healthcare
(Image part of album emailed to us from Max)
.
Comments
No Comments have been Posted.
Post Comment
Please Login to Post a Comment.