EmergencyMedicine.in
EMinside
Favorites
Recommended
Let Others Know
Verified Site
Visitor Stats
Medical Council of India Registers MCEM Qualification
Medical Council of India Registers MCEM Qualification
11-Aug-2011
Editors Desk

In a landmark event, the Medical Council of India (MCI) has officially registered the MCEM qualification (Member of College of Emergency Medicine) given by the College of Emergency Medicine, United Kingdom, as a additional postgraduate qualification under the specialty of emergency medicine.
Dr. Ketan Patel, Head of Department of Emergency Medicine at Apollo Hospitals Ahmedabad, who had applied for the recognition, was overjoyed on receiving the registration certificate, a copy of which he sent to us at EmergencyMedicine.in, today evening. He said that
This event is not just recognition of MCEM, but is the recognition of emergency medicine in India. This is a great step forward for emergency medicine as a specialty
. Dr. Ketan had passed the MCEM exams in 2007.
With this confirmation, the capability of Indian private institutes to create and contribute qualified emergency medicine professionals has increased phenomenally. These doctors can now work in Government hospitals and take the much needed expertise into the public & rural health sector. Emergency patients in India will be taken care by credentialed EM physicians, much earlier than expected.
- EmergencyMedicine.in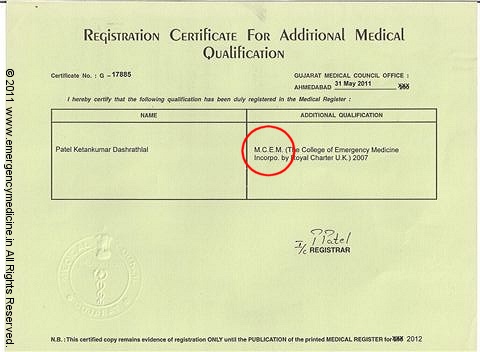 (Copy forwarded by Dr. Ketan Patel, Ahmedabad)
Important Dates
June 2005
Apollo Hospitals Hyderabad becomes the first overseas examination center of the College of Emergency Medicine, UK, for the conduct of the MCEM examinations. 3 year residency training in emergency medicine commences.
January 2006
First Indian sitting of the MCEM Part A examination conducted at Hyderabad
July 2007
First Indian sitting of the MCEM Part B and Part C examinations conducted at Hyderabad. 3 physicians pass the MCEM.
March 2008
Notification passed by Ministry of Health and Family Welfare to recognize all postgraduate qualifications awarded by Australia, Canada, New Zealand, United Kingdom and United States of America.
Click here to see this notification

(60Kb)
Click here to see list of acceptable postgraduate qualifications in UK
April 2009
EM residency training commences at Apollo Hospitals at Chennai, Bangalore, Ahmedabad and New Delhi.
MCEM Residency in New Delhi, Ahmedabad, Bangalore & Chennai
July 2009
The Medical Council of India (MCI) officially recognizes the specialty of emergency medicine
Read - The Specialty of Emergency Medicine Officially Recognised in India!
2010-2011
Other hospitals begin structuring their EM residency to satisfy requirements towards the MCEM examination.
____________________________________________________________________
MORE RELATED ARTICLES
Apollo Hyderabad MCEM Graduation Ceremony
College of Emergency Medicine Releases New Curriculum
MCEM Examiners Workshop Conducted at Apollo Hyderabad
Dr. Mahesh Joshi Received FCEM For His Contributions to Emergency Medicine
EM was Recognised in India More Than 22 Years Ago
Academic Emergency Medicine in India - August 2009
MCEM Examination
MCEM Passouts
Go to the Official Website of College of Emergency Medicine
Copyright ©2011 EmergencyMedicine.in All Rights Reserved.
Unauthorized reproduction of this article is prohibited without written permission from the administrator
.
Comments
No Comments have been Posted.
Post Comment
Please Login to Post a Comment.