EmergencyMedicine.in
EMinside
Favorites
Recommended
Let Others Know
Verified Site
Visitor Stats
Chennai Emergency Management Exercise CEMEx 2011
Chennai Emergency Management Exercise CEMEx 2011
11-Aug-2011
Editors Desk

Chennai Emergency Management Exercise CEMEx 2011 was conducted by the Sri Ramachandra Medical College Emergency Physicians Alumni Association (SEPAA) along with Accident & Emergency Medicine Department of Sri Ramachandra University (SRU) and the United Nations Disaster Management Team (UNDMT) from 4th to 9th of August, 2011.
CEMEx 2011 was a 5 day long initiative with an attendance of around 900 delegates from various disciplines who participated in 13 parallel academic training programs running for the first four days of the event, which included:
Humanitarian Response Track focusing on Public Health,
School & Higher Education Preparedness,
Industrial and Chemical Disaster Preparedness,
IT & Hotel Industry Preparedness,
Communication Workshop,
Public Health Assessment,
First Responder Training Course,
ITLS ACCESS Course,
International Trauma Life Support – A Prehospital Care paramedic Course,
Emergency Nursing Care (ENC),
Hospital Emergency Management Course (HEMC),
Comprehensive Trauma Life Support (CTLS),
Basic Disaster Life Support and
Advanced Disaster Life Support (ADLS) Courses.
It was followed by an incident - simulation drill in which doctors, nurses, paramedics, hospital administrators, police, fire service, Civil defense, Corporation officials, Collectorate officials, state officials and local hospitals participated.
Dr. George Abraham, Founder of IIEMS, who was the chief faculty, said that the American Medical Association's Basic Disaster Life Support and Advanced Disaster Life Support course was being conducted for the first time ever in India with over 50 emergency physicians participating.
The other faculty for BDLS/ADLS were cross trained in fire-fighting, Emergency Medical Services, Nursing and Hospital Administration. The faculty taught from their life experiences having dealt with major disasters. Training was given as per the DISASTER paradigm along with small pox vaccination, decontamination procedures and personal protective equipment.
An event like this one is the need of the hour and was designed to create awareness about disaster management not only among Health care providers but also the community at large. It aimed towards providing education to manage disasters better and save more lives.
Written by
Dr. Priyadarshini Marathe
Dr. Ravi Pattan Shetty
For EmergencyMedicine.in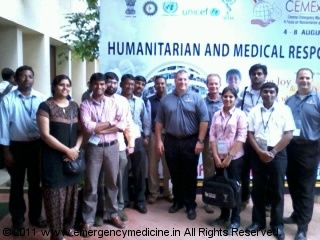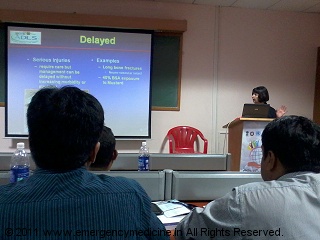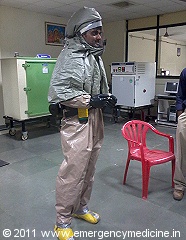 .
Comments
No Comments have been Posted.
Post Comment
Please Login to Post a Comment.