EmergencyMedicine.in
EMinside
Favorites
Recommended
Let Others Know
Verified Site
Visitor Stats
Dr. Mahesh Joshi Receives FCEM for his Contributions to Emergency Medicine
Dr. Mahesh Joshi Receives FCEM for his Contributions to Emergency Medicine
17-Jun-2011
Editors Desk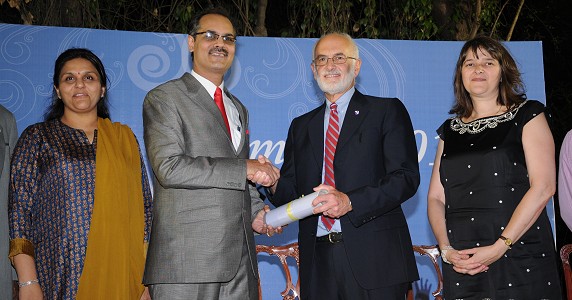 Photo (L to R) Ms. Sangita Reddy - Executive Director Operations, Apollo Hospitals Group, Dr. Mahesh Joshi receiving certificate from Dr. Ed Glucksman, Past Vice President for CEM, Dr. Rachel Landau, Examiner for CEM.
The College of Emergency Medicine (CEM), United Kingdom conferred its honorary Fellowship (FCEM) to Dr. Mahesh Joshi, Group Director for Emergency Medicine, Apollo Hospitals Group, for his extraordinary contribution to the specialty of emergency medicine in India. He is the second physician outside Europe to receive an honorary FCEM. The first was Dr. Hariprasad, CEO-Apollo Hospitals Hyderabad. (
Click here to read previous article
)
Dr. Mahesh Joshi was responsible for the development of Apollo Hyderabad Emergency Department and its EM residency training programs. He now heads all the emergency departments within Apollo Hospitals Group, numbering more than 50 in number. Dr. Joshi is also the Co-Chairman of the Society of Emergency Medicine India (SEMI).
Two EM physicians also received their MCEM certificates in the same ceremony, held at Taj Banjara, Hyderabad.
- EmergencyMedicine.in
_____________________________________________________
Read More
Passion for Saving Lives
- Deccan Chronicle
Honour for City Doctor
- Times of India
.
Comments
No Comments have been Posted.
Post Comment
Please Login to Post a Comment.