EmergencyMedicine.in
EMinside
Favorites
Recommended
Let Others Know
Verified Site
Visitor Stats
FEATURED PERSONALITY - Dr. Anunaya Jain, University of Rochester
FEATURED PERSONALITY (Date of interview - 3rd July 2009)

DR. ANUNAYA JAIN, MBBS, MCEM
FELLOW IN EMERGENCY MEDICINE RESEARCH, UNIVERSITY OF ROCHESTER, NEWYORK, USA
MANAGING EDITOR FOR INTERNATIONAL JOURNAL OF EMERGENCY MEDICINE (IJEM)
_________________________________________________________________________

EmergencyMedicine.in FEATURED PERSONALITIES brings to our readers, the voices, minds & hearts of the most enthusiastic people contributing to emergency medicine in India.

Emergency Medicine in India is in the stage of evolution and this is an opportunity of learning for everyone working in EM. We try to show you the interviews with contributers to Indian emergency medicine, both novices as well as veterans. In a country as diverse as ours, the experience of the current emergency physicians & allied individuals can never be overlooked. We believe that the replication of the best practices implemented by these personalities, in addition to those from the West, will facilitate the setup of new Indian emergency departments in a faster & more standardized manner.
_________________________________________________________________________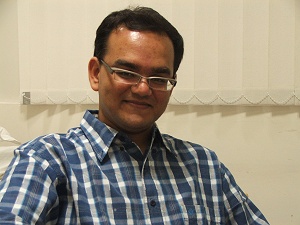 Introduction
Dr. Anunaya Jain is one of our closest friends and had been around with us during the early development of this website. His compliments & criticism were used to our advantage to build both EmergencyMedicine.in and the website of Network of Emergency Physicians, India (NEPI). Dr. Anunaya alias
morpheus
, has been and is still one of the most active contributers to the NEPI Discussion Forums. (
www.nepi.in
)
LEFT Dr. Anunaya Jain, Fellow in Emergency Medicine Research, University of Rochester, Minnesota, USA and Managing Editor of International Journal of Emergency Medicine
Completing his MCEM from Apollo Health City, Hyderabad in 2008, he immediately joined Mayo Clinic, Rochester, USA as a Fellow in Emergency Medicine Research for a 2 year stay. He recently moved to the University of Rochester to continue his research projects. He has been working with the editorial team of the International Journal of Emergency Medicine (IJEM) and is now the Managing Editor of IJEM. (
Click here to go to IJEM Website
)
He is one of the emergency physicians recently trained in India who chose emergency medicine research as a career goal. The path he has taken is loaded with information which we feel will benefit not only budding researchers in Indian emergency medicine, but also the those who are responsible for its promotion here.
EmergencyMedicine.in is proud to get this opportunity to interview Dr. Anunaya Jain with a few targeted questions!
_________________________________________________________________________
Can you define EM research, and how is it relevant to Indian Emergency Medicine?
Dr. Anunaya -
Well, I dont want to put a definition on EM research, since its a baby thats taking its first few steps, even in the world today, when we compare it to research in other medical fraternities. Strictly speaking, any research done in the Emergency Medicine Department, that encompasses, epidemiology, management and outcomes of patients, or administration of the department itself is EM research.
Indian Emergency Medicine has just found its roots. There is a wealth of clinical and administrative data that is just waiting to be mined. I think as the specialty grows, there also grows the need for evidence to prove to the medical fraternity and to the common man, that Emergency Medicine is capable of making a difference. I think the initial steps of research in Indian EM, should focus on epidemiology of EM patients, so that we can realize if there are any differences with the other well established systems in the world today. The next step should obviously focus on management of different conditions, and improvements in those systems of management.
To that I would like to see an administrative side of research, which could prove to be a benchmark, for establishing systems in other developing medical systems. As a country with more than a billion people, our needs are different, and our systems would have to be different. It is only quality and outcome based research that will eventually lead us to the system that works best for our EM. I think EM research along with EMS would be the next big thing for Indian EM.
How can an academic program director implement and encourage active research in his/her ED?
Dr. Anunaya -
I have had the opportunity of going to a program that has one of the most active ED research divisions in the US, Mayo Clinic, and at the same time a nascent division at the University of Rochester. I would like to cite 4 Cs for initiation of research.
Commitment
I think one of the most important aspects is identifying a faculty who can champion the cause of research. Research in a clinically active department like the Emergency Medicine Dept. cannot happen if you just initiate research, you need someone to guide and push the research at all stages, whether it be designing the study, data collection, data analysis, or more importantly converting research to publication.
Co-operation
I think this is one step thats often forgotten. Eventually, no matter where you work, if you need to start research in a system, you need to give people some incentive. For example, in the US when you dedicate time to research, consultants are often given protected research time. The best incentive that can be asked is that fellows and residents be sponsored to present and attend national and international conferences.
Conviction
It is important for program directors, to convince residents and fellows to do research. Unfortunately like in the US, we dont have a system where academic appointments and promotions are based on research to a large extent. Sadly we are also not taught research or exposed to research during undergraduation. The one way I see to build this confidence amongst residents and fellows, is to have them visit a national and one international conference, this will not only open their eyes to what is the current research in emergency medicine, but also create in them a want to present at such conferences. If they desire they should also be encouraged to get formal training in research.
Completion
It is very easy to start research with the incentive of presenting at conferences as it gives the department national and international visibility. But at the same time, no research can be complete, unless it can be cited. It is often seen that the number of manuscripts published in indexed journals is far lesser, far lesser, than the number of abstracts presented in national and international conferences. It is not difficult to publish, but it does require patience and guidance.
What are the steps required to maintain quality and ethical standards in research?
Dr. Anunaya -
I think there is no better way for maintaining quality and ethical standards in research than a commitment to yourself that you will publish and write what is truthfully done. There are a number of issues that plague research, or are associated with research.
Quality of data collection
There is often an aura of fabricated data that often surrounds data presented from new department. The way to avoid that is to have a reviewing body that governs and quality controls the data that is being collected. This could be as simple, as two data collectors collecting the same data at different times, and then comparing the differences, (kappa correlations statistically), or establishing a higher authority an institutional review board to monitor data.
Good research designs
Often the research design chosen is not the best for that research study, which creates a problem of acceptability of the research. It is good to seek guidance early on, rather than make changes like, a retrospective research sound like its been done prospectively.
Plagiarism
This is the grievous of mistakes that any researcher can make, and it carries the penalty of tarnishing his image for life. We must understand that its not just copying statements from other publications that amounts to plagiarism, but its the copying of ideas for research that amounts to greater mistrust.
The most appropriate way to conduct good research is to have internal reviews of the work that is done in the department starting at the planning of research. To then have a strong institutional review board that looks at the pros-and the cons of the study ethically and not just economically, and then to have critique from other researchers externally prior to presentation.
What is your suggestion for EM residents with active projects?
Dr. Anunaya -
First I would congratulate them for having taken steps into a wide open field of EM research. My suggestions to them would be
1. Get your study reviewed now rather than wait for the end of the study, to realize what could be possible drawbacks and shortcomings.
2. Review other similar studies, and create a library of studies to reference.
3. Choose conferences that you would like to present at.
4. Choose a time limit for your research. A good way to do that is to aim at a conference abstract deadline.
5. Do your own statistics thats often one reason why residents shy from research. But believe me, its not that difficult, takes time to learn and be proficient in, but the sooner you get into the fray of doing your own stats, the better it is for you. You could always double check with a statistician.
6. Write your own abstracts, it is important to learn to write abstracts, and start writing the abstract, as soon as you have initial results, you can always keep changing the results, but the more you write the better your abstracts will sound.
7. Do research that you can publish, its not good doing research that remains an abstract. Find time from your schedule to start writing a good manuscript. Remember publishing a manuscript can take upto a year, but dont give up your motivation to get it published. Its good to get critiques from journal reviewers, so treat them constructively.
8. Choose your journal, this is something that carries as much weight as the previous suggestion.
Can you tell us about your life as a EM research fellow at the University of Rochester, USA?
Dr. Anunaya -
Well, no juicy scoops to give here. My life as a research fellow has seen two places so far. I have worked in a well established division of research at the Mayo Clinic, where it was easy to start my research right from the word go, as other systems were already in place. My project on hemorrhagic stroke was completed in 8 months, though we had data for 3 year but since precedents were set there it was easy to start my research.
At the University of Rochester, it is my first tryst with initiating research from scratch. A process that involves getting trained with the review board, getting approvals for research, building a research teams, getting co-operation from other departments as well as faculty within.
On a more objective basis, life is now a 9 to 5, five days a week job. Most of my time goes into finishing off pending manuscripts, searching for journals that would be ready to publish what we write. Administrative affairs take up the rest of the time at office. I also serve as the managing editor for the international journal of emergency medicine, a job that gives me as much pleasure and learning, as insight into what is the ongoing research world over in EM.
In my spare time, I look after my apartment, gym a little, all the daily nuances of life alone in the US. Traveling is something I enjoy, and my conferences have made me see some of the best cities in the USA, Rochester is very close to Niagara falls, so thats next on my list of pleasure trips!
How did you reach the USA?
Dr. Anunaya -
My MCEM experience at Apollo was enriched by my trips to South Africa for the EMSSA conference, Seattle for ACEP national assembly, and Stanford University in 2007. At each of these places, I realized the importance of adding research to my academic qualification. I did do some research during my residency, but I was not formally trained in research. Dr. Latha Stead (Editor in Chief, IJEM), my current mentor offered me an opportunity to work for her at the Mayo Clinic.
The Mayo Clinic is something that everyone dreams of. It was an opportunity that I didnt want to let go. The paper work took about 3 months time, during which I had to wait for my i797 permit to work, the application for the visa at Delhi, was the smoothest ever. I was out with my H1b visa in less than 30 minutes time. Well then it was a long flight from Mumbai to Atlanta to Minneapolis to Rochester, one of the coldest places in the US. Dont go there in December, unless you want to experience minus 46 centrigrade!!
Why did you chose EM research?
Dr. Anunaya -
The reason I joined Emergency Medicine, was that I did not want to be one amongst the 100,000 pediatricians, or one amongst the 200,000 cardiologists or amongst the 400,000 general practitioners in India. I have always wanted to swim against the tide, and establish my own name in a relatively virgin field.
Post MCEM I realized that as an Emergency Physician I couldnt just continue practicing clinically. I had to add something new to my credentials, to make myself stand-out of the crowd. I have always been intrigued by research, and I realized over time, that my research at Apollo gave me as much joy, as intubating a patient.
EM research is a field that is ever expanding, since EM is an ever expanding field. Purticularly in a country like India that has a wealth of data, EM research will be the next big thing. That in short was my reason to join EM research.
What are the future prospects for a Fellow in EM research?
Dr. Anunaya -
EM research stands in the unique position of becoming a specialty within itself, as well as remaining related with clinical EM. As a fellow in EM research, you can practice clinically, but at the same time satisfy your academic urges of doing research, getting your name on manuscripts, international collaboration with other researchers, presenting nationally and internationally.
If you do make the decision of making a career only in research, then a large number of organizations would seek your help, for establishing academic and non-academic EDs. There will also soon be a need of critical analysts who can evaluate health systems functioning in Emergency scenarios and in Emergency Medicine, both in the private and in the public sector. I think the prospects eventually though will depend upon the individual and his focus.
_________________________________________________________________________
Dr. Anunaya Jain wishes to return to India after his fellowship and contribute to EM research. Getting the opportunity to be the managing editor of an important & internationally recognized EM journal at such a young age only highlights the career options available to those who are stepping into the specialty of emergency medicine in our country.

EmergencyMedicine.in thanks Dr. Anunaya for this interview and wishes him the best for his future. Our readers can reach him at anunaya_jain@urmc.rochester.edu
_________________________________________________________________________
Copyright © 2009 www.emergencymedicine.in All Rights Reserved.
THIS ENTIRE ARTICLE & ALL ITS IMAGES ARE COPYRIGHT OF EMERGENCYMEDICINE.IN AND MAY NOT BE REPRODUCED IN ANY FORM WITHOUT WRITTEN PERMISSION.
.