EmergencyMedicine.in
EMinside
Favorites
Recommended
Let Others Know
Verified Site
Visitor Stats
International Fellowship Graduation at MIMS, Calicut
International Fellowship in Emergency Medicine (IFEM) Convocation at Malabar Institute of Medical Sciences (MIMS), Calicut.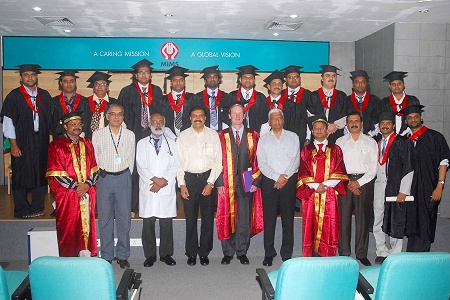 The first batch of residents who underwent the 2 year structured training program (starting in July 2007) in emergency medicine at MIMS, Calicut, Kerala, completed their course last month. The course has been accredited to the Ronald Reagan Institute of Emergency Medicine (RRIEM) under the George Washington University, USA.
Dr. Jeffrey Smith, Co-Director & Associate Professor at RRIEM and also the Director for Section on International Emergency Medicine, handed over the certificates to the successful residents who passed the exit exams, at a convocation ceremony held on July 10 2009 at MIMS. Dr. Venugopalan P. P is the course director and chief of Department of Emergency Medicine at MIMS.
This two year EM training is also conducted at 4 other institutes in India which include Kerala Institute of Medical Sciences Trivandrum, Max Hospital New Delhi, Rabindranath Tagore Institute of Medical Sciences Kolkota and Mission Hospital Durgapur West Bengal.
A lot more information including photoes can be found in a series of blogs started by a couple of these departments.
ifemgwumims.blogspot.com
memigindia.blogspot.com
emcmemims.blogspot.com
Image part of album emailed to us from MIMS