EmergencyMedicine.in
EMinside
Favorites
Recommended
Let Others Know
Verified Site
Visitor Stats
International Journal of Emergency Medicine
The International Journal of Emergency Medicine (IJEM)
At the emergency medicine conference (EMCON 2007) held at Chennai two years ago, an emergency physician highly respected in India, Prof V. Anantharaman FRCP, FRCS (A&E) from Singapore General Hospital, presented a talk on EM research. One of his slides shown below was very relevant.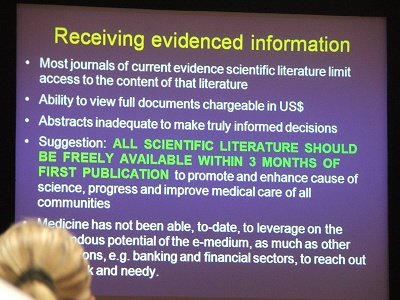 The research studies presented by various EM departments in the last few EM conferences in India give a very poor impression. Majority of papers are of no value and are done just to show numbers. Bad choices of topics, duplication of studies, unethical & unscientific ideas, poor design & methodology and unskilled presentation are some of the issues.
One of the reasons for this is that residents & emergency physicians in India cannot access the most desired journals from overseas colleges and institutes like ACEP, etc, due to their high subscription cost. Also, the faculty at most emergency medicine institutes have not taken a proactive step to ensure large flow of academic information in the form of evidence based journals.
In its current state, Indian emergency medicine in not mature enough to publish its own journal. Those who have chosen EM in India as a career path and also have an inclination towards EM research must work on high quality projects which can compete at international level.
Journals like Academic Emergency Medicine, Canadian Journal of EM, IJEM and others have promoted research papers from India by publishing their abstracts. But very few have reached full article publication and these are inaccessible to the most needy.
One of the recent developments is the International Journal of Emergency Medicine (IJEM) started by Dr. Wyatt Decker and Dr. Latha Stead, based at Mayo Clinic & University of Rochester respectively. With an editorial board consisting of emminent emergency physicians from all over the world, this journal is truly international. Most importantly it is open access, i.e. online access to all its content & articles is free of charge.
Respect and popularity of this new journal has been increasing in all countries, especially in India. Let's hope that this can guide Indian EM research in the right direction.
Links to IJEM
http://www.springerlink.com/content/120998
Description, Editorial Board & Submission