Navigation
EmergencyMedicine.in
EMinside
Favorites
Let Others Know
Life Responders
Recommended
Verified Site
Ads
Study of Emergency Response Service in India - EMRI Model
Study of Emergency Response Service in India - EMRI Model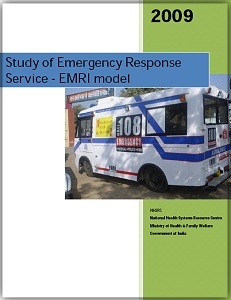 A much discussed and successful public private partnership model for ERS (Emergency Response Service) is the 108 Emergency Service being managed and operationalised by EMRI (Emergency Management and Research Institute) in many states in India like Andhra Pradesh, Gujarat, Uttarakhand, and Rajasthan with around 1500 ambulances running. The 108 number in India aims to be equivalent to 911 of the United States. EMRI has been operational since August 2005.
The EMRI managed ERS in Andhra Pradesh has become a bench-mark for ERS in India and various other states are in the process of adopting the EMRI model. This had called for a review of the original EMRI model of Andhra Pradesh to draw lessons for designing ERS in other states in India.
The study on Emergency Response Services, with specific reference to the EMRI (Emergency Management & Research Institute) model in states like Andhra Pradesh and Gujarat, had been commissioned under the National Rural Health Mission (NRHM), Ministry of Health & Family Welfare, Government of India, in November 2008, at the request of Shri G.C. Chaturvedi (Additional Secretary and Mission Director). A team from the National Health Systems Resource Centre (NHSRC) is conducting this landmark analysis.
The aims of this study are divided in two parts
First Part
(Overview Appraisal)
Interviews with EMRI, collection of key documents and analysis of data presented by EMRI to understand and recommend on utilisation, requirements, effectiveness and efficiency of operations, financing arrangements and governance mechanisms and institutional frameworks.
Second part
To undertake a sample study, using a small number of research teams, across three states with the purpose of
a. Validating data presented by EMRI.
b. Understand further on patterns of use, and equity issues.
c. Examine HR issues related to service delivery.
d. Look at quality of service delivery
The widely awaited findings of the
first part
have been made available by the Ministry of Health & Family Welfare.(
mohfw.nic.in
)
The full document can be viewed at
Study of Emergency Response Service (in India) - EMRI Model
.
First Website Dedicated to EMS in India
EMSIndia.in
, the first website dedicated to Emergency Medical Services (EMS) in India is now online.
EMSIndia Magazine and its new website are initiatives of Dr. Subroto Das & his wife Sushmita, the founders of Lifeline Foundation (www.highwayrescue.org). This project, based in Vadodara Gujarat, is a non-governmental organization which has been promoting the awareness & establishment of EMS providers throughout the country since 2002.
Lifeline Foundation's major influence and effort can be seen on the highways of Gujarat state where they have set up a reliable EMS system not seen anywhere else in the country.
Their quarterly magazine
EMS India
is one of the widely circulated magazines related to Indian emergency medicine & EMS and has been around since March 2007.
An important point to note is that they are also working towards standardization of EMS systems in India, which is an extremely important step towards bringing high quality prehospital care to every individual in our country.
The website is found at
www.emsindia.in
Lifeline Foundation is found at
www.highwayrescue.org
International Journal of Emergency Medicine
The International Journal of Emergency Medicine (IJEM)
At the emergency medicine conference (EMCON 2007) held at Chennai two years ago, an emergency physician highly respected in India, Prof V. Anantharaman FRCP, FRCS (A&E) from Singapore General Hospital, presented a talk on EM research. One of his slides shown below was very relevant.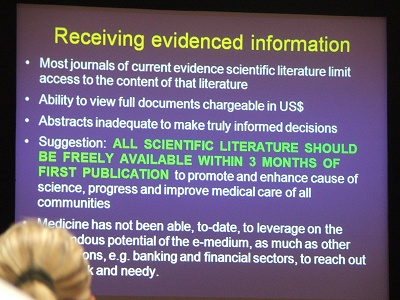 The research studies presented by various EM departments in the last few EM conferences in India give a very poor impression. Majority of papers are of no value and are done just to show numbers. Bad choices of topics, duplication of studies, unethical & unscientific ideas, poor design & methodology and unskilled presentation are some of the issues.
One of the reasons for this is that residents & emergency physicians in India cannot access the most desired journals from overseas colleges and institutes like ACEP, etc, due to their high subscription cost. Also, the faculty at most emergency medicine institutes have not taken a proactive step to ensure large flow of academic information in the form of evidence based journals.
In its current state, Indian emergency medicine in not mature enough to publish its own journal. Those who have chosen EM in India as a career path and also have an inclination towards EM research must work on high quality projects which can compete at international level.
Journals like Academic Emergency Medicine, Canadian Journal of EM, IJEM and others have promoted research papers from India by publishing their abstracts. But very few have reached full article publication and these are inaccessible to the most needy.
One of the recent developments is the International Journal of Emergency Medicine (IJEM) started by Dr. Wyatt Decker and Dr. Latha Stead, based at Mayo Clinic & University of Rochester respectively. With an editorial board consisting of emminent emergency physicians from all over the world, this journal is truly international. Most importantly it is open access, i.e. online access to all its content & articles is free of charge.
Respect and popularity of this new journal has been increasing in all countries, especially in India. Let's hope that this can guide Indian EM research in the right direction.
Links to IJEM
http://www.springerlink.com/content/120998
Description, Editorial Board & Submission
Swine Flu Management in EDs
Is your emergency department ready to manage suspected cases of swine flu?
Is your staff trained to detect these cases and treat them without exposing themselves to the risk?
Read the
Swine Flu Clinical Management Protocols and Infection Control Guidelines
from the Ministry of Health & Family Welfare, Govt of India
http://mohfw.nic.in
.