EmergencyMedicine.in
EMinside
Favorites
Recommended
Let Others Know
Verified Site
Visitor Stats
APOLLO MEDICAL CENTER, RAJIV GANDHI INTERNATIONAL AIRPORT, HYDERABAD
FEATURED EMERGENCY DEPARTMENT (Date of Visit - 24th April 2009)

APOLLO AIRPORT MEDICAL CENTER
RAJIV GANDHI INTERNATIONAL AIRPORT, SHAMSHABAD
HYDERABAD, INDIA

_________________________________________________________________________

EmergencyMedicine.in FEATURED EMERGENCY DEPARTMENTS takes our readers up and close into the most active and happening emergency departments in India.
Lets look at what is there, instead of highlighting what is not there.

Emergency Medicine in India is in the stage of evolution and this is an opportunity of learning for everyone working in EM. We try to show you facilities, staffing patterns, training, academics, equipment and also interviews with few of the staff members. In a country as diverse as ours, the experience of the current emergency departments can never be overlooked. We believe that the replication of the best practices found in these featured EDs, in addition to those from the West, will facilitate the setup of new Indian emergency departments in a faster & more standardized manner.
_________________________________________________________________________
INTRODUCTION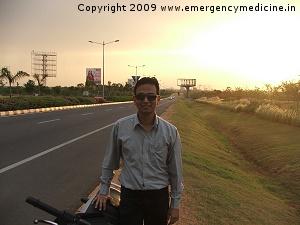 We chose our first contender, the Apollo Medical Center (AMC) at Rajiv Gandhi International Airport, Shamshabad - Hyderabad, because of its uniqueness. And with our website operations based in Hyderabad, we had no issues reaching the facility. It was a 37km ride to the airport which took exactly 50mins from our office at Banjara Hills, Hyderabad. The 5.5km approach road towards the airport is like a racing track. You can test the top speed of your BMW here!
RIGHT Dr. Ruchit (Emergency Physician at Airport Medical Center) at the approach road towards the Hyderabad Airport
Like any other secure location, we were stopped by armed airport security personnel at the entrance gate to the medical center. Mr. Ramchandra, the administrator and in-charge for the airport medical center, received us and got us through. The first thing which caught attention was the huge size of the terminal building. The medical center is situated at the ground level and facing the open VIP parking space. The main road leads right towards it.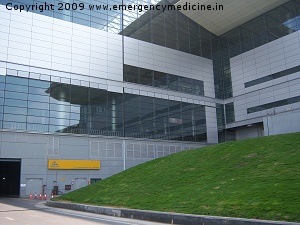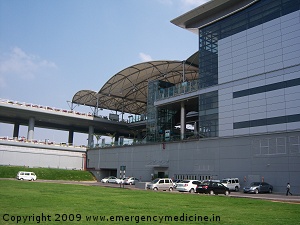 LEFT The yellow board of the Apollo Medical Center visible at a distance. RIGHT Clearing in front of the AMC
The center has excellent access with 3 large doors leading inside and there is enough space outside to park and move around atleast 20 ambulances in case of a disaster response. There is also a large clearing in front of the parking area to temporarily house tents & accommodate medical teams during a Multicasualty Incident which overwhelms the center.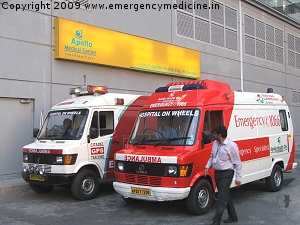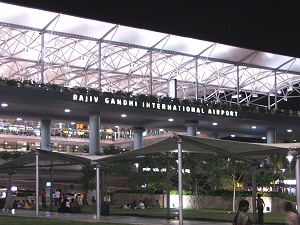 LEFT Mr Ramachandra, AMC Administrator inspecting the ambulances parked in front of the entrance. RIGHT The huge passenger terminal building of the airport as visible in the evening.
The Rajiv Gandhi International Airport, Hyderabad has more than 5000 employees working in its 8km radial territory and caters to 8.5 million passengers annually. AMC caters to this population which includes ground & facility support staff, airline employees, flight crews, transit passengers as well as road traffic accidents & medical emergencies occurring near the Hyderabad - Bangalore highway close to the airport.
EMS
The AMC has placed 3 advanced life support ambulances with paramedics within the airport premises 24x7. 1 ambulance is present on the airside (security cleared area) and 2 on the landside (public area). In addition, 2 general transport ambulances are also present inside the airport for routine patients. The advanced ambulances had everything required for resuscitation of emergency & trauma patients, including airway management equipment, defibrillator, spine boards, drugs, etc. The Philips HeartStart MRx defibrillators which were present in the vehicles were also capable of displaying a full 12 lead ECG from the patient. The defibrillator could also be switched to an AED (Automated External Defibrillator) mode.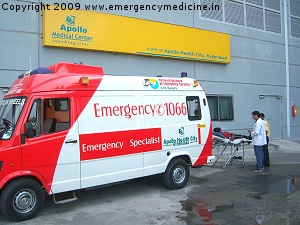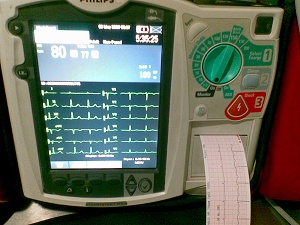 LEFT An ambulance offloading a patient at the AMC RIGHT Defibrillator connected to a patient showing a full 12 lead ECG.
EMERGENCY ROOM
Walking inside, the realization was that this center is really big! The biggest medical center within any airport in India for sure! Covering the basement area of more than 300 square metres, Mr. Ramchandra claimed that this was the largest airport medical center in Asia. The AMC had been operational since March 23rd 2008.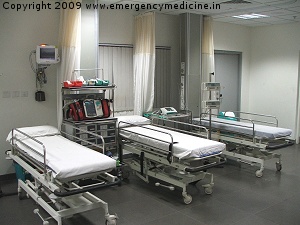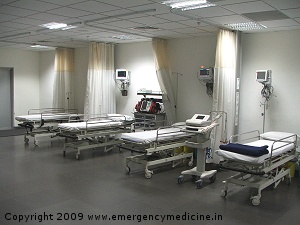 LEFT Resuscitation beds inside the Apollo Medical Center. RIGHT Treatment beds inside the Apollo Medical Center.
The center is a full fledged emergency room (Level II) with trained emergency physicians and EMTs (Emergency Medical Technicians or Paramedics) manning it round the clock. The center has 7 monitored beds with a surge capacity to accommodate 17 patients. There is in-house facility for basic blood investigations, ECG, X-ray, ultrasound, treadmill and dental procedures.
The images continued below will do all the talking!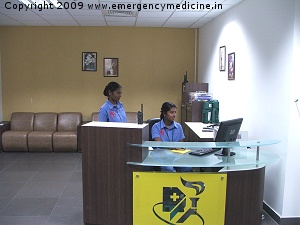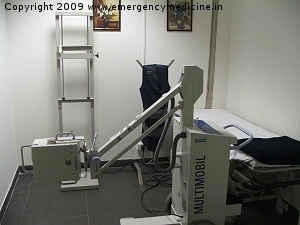 LEFT Nurses manning the reception counter. RIGHT X-Ray room with a mobile X-Ray unit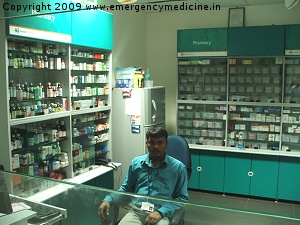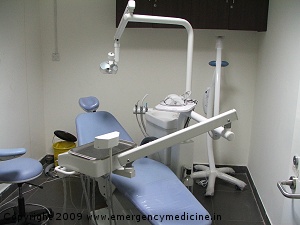 LEFT A pharmacy within the center caters to patients within the emergency room as well as visitors. RIGHT Room for dental procedures.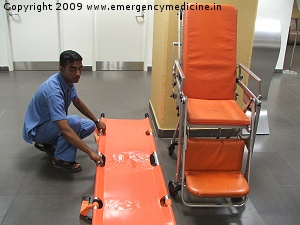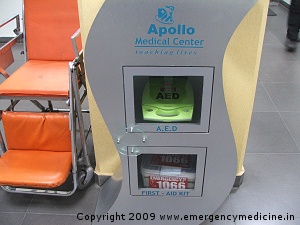 LEFT An EMT shows the patient stretcher and transportation devices. RIGHT An automated external defibrillator with a first-aid kit placed in a tower.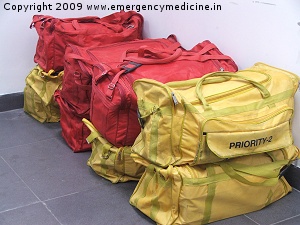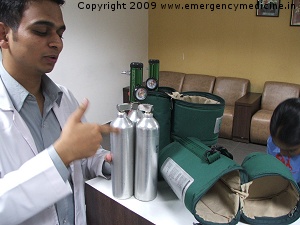 LEFT Disaster kits stocked and ready to deal with any sudden surge of victims. RIGHT Dr. Ruchit explains the use of portable oxygen canisters for transported patients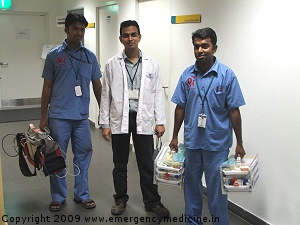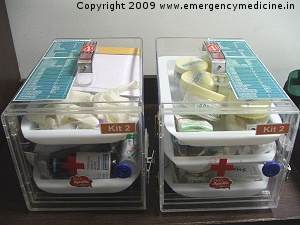 LEFT The team which responds to an airport medical emergency consist of the on-duty emergency physician and two EMTs who carry a defibrillator, airway equipment & drugs. RIGHT The lockable emergency kits are made of tough transparent plastic with sliding trays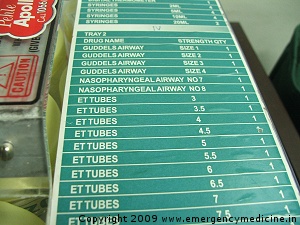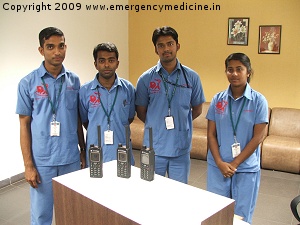 LEFT The list of available items inside a kit is visible on the top. RIGHT Handheld radios are the regular mode of communication between the center and other team members scouting the airport terminal.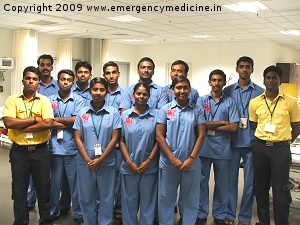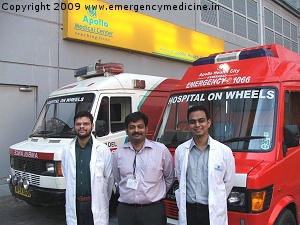 LEFT The nursing & EMT staff are well trained to deal with all emergencies both within & outside the airport. RIGHT (L to R) Emergency Physician Dr. Imran, Mr. Ramachandra - AMC Administrator and Emergency Physician Dr. Ruchit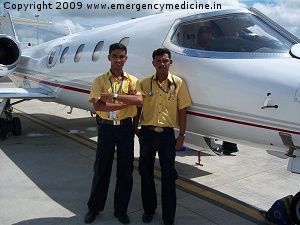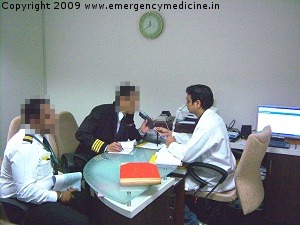 LEFT The AMC emergency medical technicians (paramedics) feel at home next to this ambulance jet! RIGHT Pilots undergoing mandatory breath analyzers checks for alcohol prior to their flight.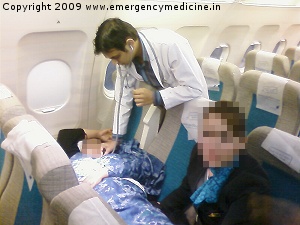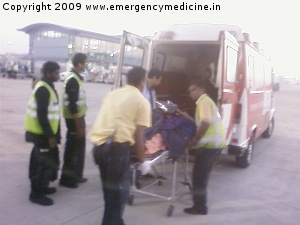 LEFT Dr. Ruchit examines a sick patient inside a commercial aircraft immediately after landing at Rajiv Gandhi International Airport, Hyderabad. RIGHT Patient getting loaded onto the ambulance on the airport tarmac for transfer to the AMC.
PATIENT EPIDEMIOLOGY
As per the patient register, there are about 15-25 patients coming in per day, of which 4-5 are emergencies. The most common acute patients which are being seen here are cardiac arrests, trauma (head injuries, fall from heights, extermity injuries & road accidents happening just outside the airport), seizures, panic attacks, sepsis, hypoglycemia, acute MI, arrhythmias and chemical burns. The AMC also conducts weekly health checks to the airport staff along with visiting consultants including general physician, cardiologist, gynecologist & dental surgeon.
DISASTER PLAN
The AMC disaster plan shown by Dr. Ruchit was clearly defined, highly organised & coordinated with the different agencies within the airport as well as with other nearby hospitals both Government and Apollo Hospitals. A disaster drill was conducted in February 2008, one month prior to the airport becoming operational. Those who were a part of this drill will remember that it was simply spectacular! The images shown below are from EmergencyMedicine.in archive.
Drums of diesel were poured & ignited in a pit a few hundred meters after end of the runway to simulate an aircraft crash. The fire was so hot that the heat could be felt at a distance of 100 meters! But the limelight was stolen by the state of the art fire engines which were imported from Germany. These air conditioned vehicles costing a whopping 4.5 crores each could accelerate and reach a top speed of 130km/hr quite comfortably as demonstrated. Three of these engines reached the fire which was 3 kms from the terminal building in less than 2 minutes and put the fire out completely within a few seconds with their powerful sprays! The drill had more than 75 volunteers as victims, along with members and staff of almost all agencies operating in the airport. The airport medical center along with its 4 ambulances & staff, played a critical role in the drill. The patients were stabilized at the AMC and then transferred to various governent & private hospitals, including two Apollo Hospitals at DRDO and Jubilee Hills, where hospital disaster drills were simultaneously conducted.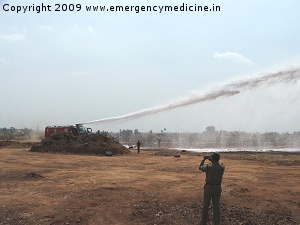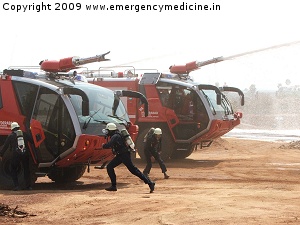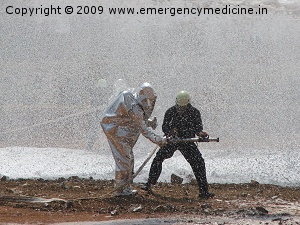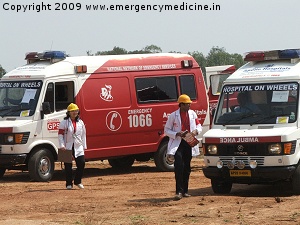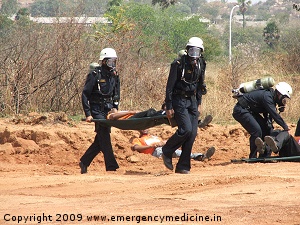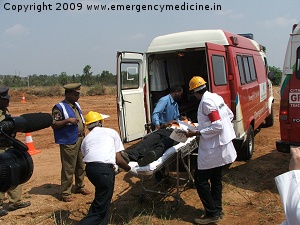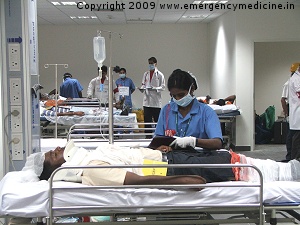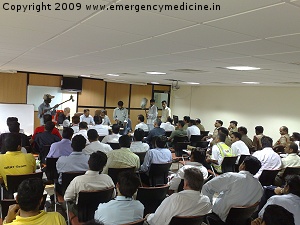 RIGHT A comprehensive debriefing after the disaster drill to recieve critical feedback from participating agencies.
________________________________________________________________________
We managed to find some time with Mr. Ramachandra, Administrator for the AMC, who was continuously busy with airport meetings. We asked him why he had chosen to employ EM trained doctors here since other airports had general physicians, and what advantages has he seen with them over others.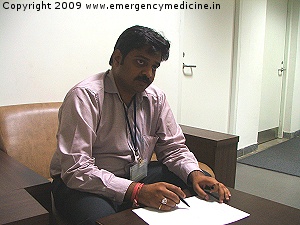 Mr. Ramachandra, Administrator & In-Charge, Apollo Medical Center
There is no question of having non emergency medicine trained doctors at this airport. This place requires an emergency physician trained to handle all kinds of emergencies and not a general practitioner. Ability to triage, diagnose, stabilize and manage the whole spectrum of medical & surgical emergencies in all age groups, along with knowledge of EMS, team work and leadership qualities are absolutely mandatory to work here. In fact, emergency physicians should be available at all airports.
There are extremely high expectations from our medical team in case of an emergency anywhere in the airport and the team has to reach the patient within a stipulated time. Our average response time (time of emergency call to medical team reaching the patient) is now just 3 minutes. This we have made it possible by putting processes in place along with the airport authorities which allow our medical team to go through security checks and reach the patient with the help of the airport & airline ground staff.
Our center is capable of delivering ICU level care for critically ill patients and we do not compromise this even during the 30 minute transportation to our main hospital (Apollo Health City) in Jubilee hills. And all this obviously requires highly trained manpower which includes emergency physicians as well as trained nurses & EMTs.
________________________________________________________________________
Dr. Ruchit Agrawal is one of the three emergency physicians working at the AMC. He is undergoing his 3 year emergency medicine residency at Apollo Health City, Hyderabad and will be giving his MCEM exam next year. He is one of the most dynamic EM residents we have ever encountered! We found him fiercely in support of the specialty of EM and found him with the [
if you're not in emergency medicine, you're as good as dead
] look on his face!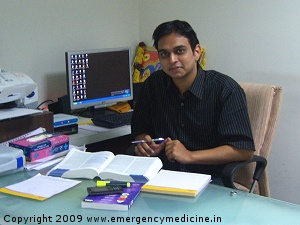 Dr. Ruchit Agrawal, MBBS, (MCEM), Emergency Physician, Apollo Medical Center
Illness, disease, attacks do not come with a pre-warning. Passengers on board are usually on important academic or urgent missions which require a healthy outfit. For people who land or are even ready to depart, sudden illness strokes drag them to the Airport Medical Center. If such a Center is not available on the airport, there would not only be uncared health problems but could also culminate in calamities.
Apollo Airport Medical Center (AMC), Hyderabad is a boon for such occasions. Any Airport Medical Center is characterized by its preparedness to deal not only with simple illnesses like flu, fever etc. but also with emergencies like cardiac arrests, strokes, accidents and even disaster management. AMC is one such excellent example which satisfactorily caters to all health needs. It is undoubtedly the largest Airport Medical Center in India so far with a total of 7 beds and surge capacity of 17 beds. During the past 1 year there have been several cases when the Center played a crucial role in saving lives of acute patients on board and inside/ around airport.
Most people feel that they will never require medical treatment at the airport but in fact, incidences of cardiac arrests, strokes, polytraumas etc. in and around the airport tells us that Medical Centers like this can make a significant difference to the society. Those who avail of this facility can only truly communicate how such a Center has brought
life
to their lives.
The Center has well trained Emergency Physicians available round the clock. It is a great place for all Emergency Physicians to work since it not only gives an entirely different experience but also exposes one to a wide spectrum of patients.
________________________________________________________________________
Dr. Bevin D'Silva was leading the first team of EM residents to be working at the AMC when the airport began its operations in March 2008 and was responsible for execution of its patient care processes. Since this center was built from a scratch and fully influenced by emergency medicine right from the start, we were interested to know what went into its early development. So we had travel 40kms back to the main hospital in Jubilee Hills to meet up with this doctor!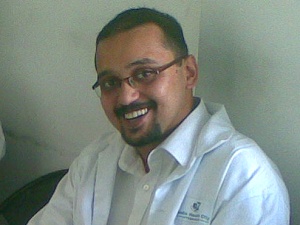 Dr. Bevin D'Silva, MBBS, FEM, (MCEM), Senior Emergency Physician, Apollo Health City, Hyderabad
This was a unique project and during the set up phase we faced some distinct challenges. To begin with, the airport itself is a fair distance away from the nearest tertiary health care facility and has a dense and diverse population at any given time of the day. This included passengers from different countries speaking different languages, the mammoth workforce that keeps the airport going as well as airline crews and ground staff. The problems faced by this group of potential patients vary from minor injury and ailment to an onsite disaster or global pandemic. In the first few weeks we studied the needs of this population and implemented policies and trained our staff. Although we had trained our EMTs (paramedics) months in advance, they had not worked in an airport environment before.
While setting up the medical centre we had to keep in mind its different roles. It had to function as an onsite clinic or infirmary where one can avail outpatient services, regular health checks, and be referred for admission or specialist consultation should problems be identified. It had to be capable of resuscitation and stabilization of acutely ill patients and subsequently transport them to definitive care. It had to be disaster ready from day one. The EMS, consisting of six fully equipped ambulances manned by trained paramedics had to be strategically placed all around the airport complex. This was necessary to reduce time spent accessing the patient. The medical centre had to function as communication centre and control for the EMS. Its not surprising that it turned out as an emergency room as it fulfilled all these roles.
A doctor trained in emergency medicine was an inevitable choice to be the resident physician. As each challenge was met, the focus shifted on quality of care. Quality indicators were left in place to be subjected to time bound analysis. In all, this medical centre has borrowed from and contributed to emergency medicine in a big way. And this could not have been possible if our higher management hadnt understood the concept of emergency medicine & EMS in a clear manner.
________________________________________________________________________
OUR FINAL OPINION
The Apollo Medical Center, which is a unit of Apollo Health City, Hyderabad has not only ensured the delivery of expert medical care right inside an aircraft & anywhere within the airport, but also ensured the continuum of care during transfer to the destination hospitals. The AMC which is staffed by emergency medicine trained doctors & nurses has demonstrated the capability to stabilize all emergencies. And with the patients being transferred to Apollo Health City Emergency Medicine Department which is one of the best in the country, the emergency care recieved is superb! Rajiv Gandhi International Airport at Shamshabad-Hyderabad, is undoubtedly the safest airport we have ever seen with respect to emergency medical care.

So if you have a medical emergency on your flight from London to Melbourne, your best chance is to land at Hyderabad!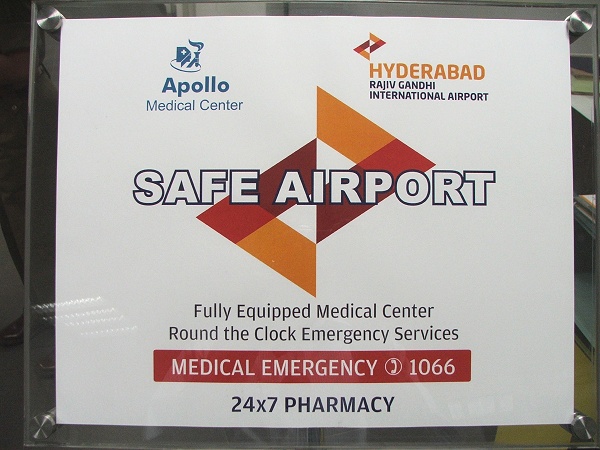 CORRESPONDENCE ADDRESS
Apollo Medical Center
Passenger Terminal Building Level B
Hyderabad Rajiv Gandhi International Airport
Shamshabad 501218
Hyderabad, AP, INDIA
Click here to find this location on google maps
Fax: 91-40-24003333
Tel1: 91-40-24008346
Tel2: 91-40-66001066
Tel3: 1066 (From within airport premises)
Tel4: 1800-3451066 (Toll free)
Website1:
www.apollohealthcity.in
Website2:
www.hyderabad.aero
Website3:
Rajiv Gandhi International Airport - Wikipedia
Website4:
Hyderabad Travel Guide
Mr. Ramchandra
Administrator & In-Charge, Airport Medical Center
Email1: ramchandra_j@apollohospitals.com
Email2: ramj_c@rediffmail.com
Dr. Mahesh Joshi
Head of Department (Emergency Medicine), Apollo Health City, Hyderabad
Email: mahajosh@rediffmail.com
Dr. Ruchit Agrawal
Emergency Physician, Airport Medical Center
Email: ruchit007@rediffmail.com
Dr. Bevin D'Silva
Emergency Physician, Apollo Health City, Hyderabad
Email: bevindsilva@gmail.com
_________________________________________________________________________
Information submitted by this department to EmergencyMedicine.in during the April 2009 Online ED Survey
STAFFING
No of Residents (Trained in EM) = 3
No of Nurses (EM Trained) = 4
No of EMTs (Trained in prehospital care) = 14

SERVICES AVAILABLE 24X7
Specialties available within 15mins = None. But we ensure an emergency patient requiring specialty services is taken to Apollo Health City, Hyderabad (which has all specialties) within 30mins. We also give prearrival notification.
Ancillary services available = Xrays

TRAINING & EDUCATION
EM Training Programs = All residents working at the center are rotating from the emergency department at Apollo Health City, Hyderabad as a part of EM training.
EM Curriculum = College of Emergency Medicine, UK
EM Related short workshops = BLS & first aid training programs are held for the airport & airlines staff by our doctors regularly.

EQUIPMENT
No of Defibrillators within ED = 4
No of Ventilators in ED = 1
Airway Equipment = OPA, NPA, Endotracheal tubes, LMA, Combitube and all RSI equipment.

FACILITY
Total ED Capacity = 7
Surge Capacity = 17
No of Monitored Beds = 7
Resuscitation Beds = 2

MEDICAL RECORDS
Computerized records are maintained for all patients visiting the center. Copies of all prescriptions are maintained. Files are made for all patients staying for more that an hour.

POLICIES & PROTOCOLS
Protocols = Availability of emergency services anywhere at airport within 3 minutes. SOP of disaster management, sepsis, stroke, trauma, ACS and poisoning protocols.
Poison Information = Textbooks & Internet

INFORMATION SYSTEMS
24hr Internet Access in ED = Yes
Any other technology in ED = Fax, photocopier, scanner, telemedicine, breath analysers

EM RESEARCH
Prospective study about flight sickness and patients in Airport

EMS
No of ambulances Run = 3
EMS Training = EMTs & nurses undergo a 3 month training which includes prehospital care, BLS, ACLS, airway & trauma management, airport & aviation operational procedures and a 1 month rotation at emergency room at Apollo Health City, Hyderabad,

ED ADMINISTRATION
All aspects related to emergency medicine is governed by Dr. Mahesh Joshi, Head of Department, Apollo Health City, Hyderabad

DISASTER PLANNING
We have plans for dealing wtih disaster management, terrorist attack and building evacuation. Disaster drills every 6 months.

HOSPITAL ACCREDITATIONS
The Apollo Medical Center is a unit of Apollo Health City, Hyderabad which is accreditated by Joint Commission International (JCI).

ANY OTHER INFORMATION
The Apollo Medical Center is a unit of Apollo Health City, Hyderabad. All doctors are well trained EM physicians with experience of a tertiary care center. The center is the biggest airport medical center in Asia working 24x7.

DATE OF SUBMITTING THIS INFORMATION = 7th April 2009

NAME OF SENDER = Mr. Ramachandra
_________________________________________________________________________
Copyright © 2009 www.emergencymedicine.in All Rights Reserved.
THIS ENTIRE ARTICLE & ALL ITS IMAGES ARE COPYRIGHT OF EMERGENCYMEDICINE.IN AND MAY NOT BE REPRODUCED IN ANY FORM WITHOUT WRITTEN PERMISSION.
.