Navigation
EmergencyMedicine.in
EMinside
Favorites
Let Others Know
Life Responders
Recommended
Verified Site
Ads
Multiple Articles on Emergency Medicine in India
Multiple Articles on Emergency Medicine in India
27-Apr-2014


Editors Desk

The April 2014 issue of Healthcare Executive is carrying multiple articles related to emergency medicine in India.
It is good to see so many leaders in India give their comments about EM. Have a look!
Society for Emergency Medicine India has started the process to create a national curriculum with the help of International Federation of Emergency Medicine
- Dr Tamorish Kole
We need to start more academic training programs in EM across medical colleges and private hospitals
- Dr Sanjay Mehta
The biggest challenge is to get hospitals to recruit qualified emergency medicine doctors, nurses and paramedics to take care of their emergency patients
- Dr Imron Subhan
India can emulate legislation like EMTALA which defines how emergency care can be provided to citizens
- Dr Jesse Pines
A state sponsored insurance support with a co-pay component derived from the annual family income for each insured patient is the need of the hour
- Dr Anunaya Jain
(If the magazine does not load in 1 min, click here Healthcare Executive April 2014)
Evolution of Emergency Medicine - USA
Evolution of Emergency Medicine - USA
18-Sep-2013


"In 1970 there were no residency-trained emergency physicians (in the US).
By the year 2000 there were tens of thousands".

"There is something so different about what emergency physicians do.
We are the only clinical specialty available 24x7".



Watch in HD





www.247365doc.com
.
Weekend News from EmergencyMedicine.in
Weekend News from EmergencyMedicine.in
15-Sep-2013

Emergency Response Training for Airport Staff
COIMBATORE: Emergency response training was held at Coimbatore Airport by Department of Emergency Medicine, PSG Institute of Medical Sciences and Research.
The Hindu -
Click here to read
Apollo Hospitals, Rochester Medical Center tie up
HYDERABAD: Apollo Hospitals has joined hands with the US-based University of Rochester Medical Center to collaborate in areas including emergency medicine.
Business Standard -
Click here to read
City Hospital to Launch Course in Emergency Medicine
PUNE: City-based Deenanath Mangeshkar Hospital is going to launch two full-time training programmes in emergency medicine for MBBS doctors from September 1.
Times of India -
Click here to read
Emergency medical services experts from city invited to Korea for Pan Asian Trauma Outcome Studies
VADODARA: Dr Subroto Das and Sushmita Das - founders of India's best known highway rescue operation and pioneers of EMS, have been invited at the EMS meet organized by the Asian EMS Council.
Times of India -
Click here to read
SPG docs refuse to conduct medico legal formalities in private hospital
VARANASI: If medico legal formalities are considered as must before beginning treatment of any patient, any qualified medical practitioner with minimum qualification of MBBS can conduct it.
Times of India -
Click here to read
Munger sadar hosp ransacked, doctor assaulted
MUNGER: The emergency services of the hospital besides all out patient departments (OPDs) were closed as doctors and staff took shelter.
Times of India -
Click here to read
Women in labour pain top medical emergencies in Tamil Nadu
CHENNAI: The biggest medical emergency in the state is women going into labour.
Times of India -
Click here to read
4,135 patients die at Safdarjung Hospital in 6 months
NEW DELHI: Safdarjung Hospital, one of Indias largest government-run health institutions, has witnessed more than 4,135 patient deaths in last six months.
Times of India -
Click here to read
Dearth of expertise: Doctors highlight importance of emergency care
ISLAMABAD: The current system of providing emergency care needs to be revamped and trained emergency physicians should be employed in all public and private hospitals in the country.
Express Tribune -
Click here to read
All you want to know about emergency medicine in India.
Stay connected to
www.EmergencyMedicine.in
.
Position Papers by the INDO-US Joint Working Group
Position Papers from the INDO-US Joint Working Group
11-Sep-2013


Editors Desk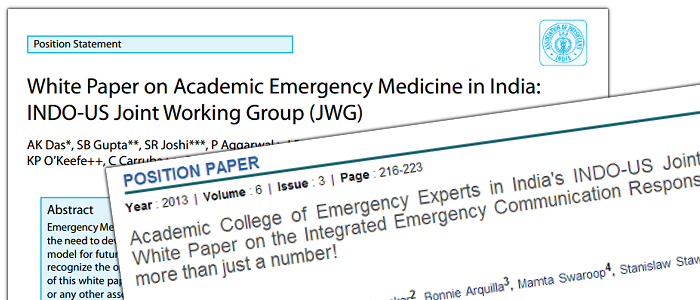 Under the leadership of the Dean - Indian College of Physicians, experts from India and the US formed a Joint Working Group. This group set the foundation for suggesting an educational model for Emergency Medicine Training in India.

Mission:
- Developing Specialty Residency Training.
- Creating Residency Accreditation Guidelines.
- Promoting Academic awareness for best practice models for Emergency Care in India.
- Standardizing pre-hospital and hospital emergency care across India in all sectors.
- Foster Academic Research in Emergency Medicine and Trauma in India

Vision:
In the next twenty years a majority of physicians providing emergency care will be residency trained and specialty certified in EM in India.
2013 - Academic College of Emergency Experts in Indias INDO-US Joint Working Group (JWG) White Paper on the Integrated Emergency Communication Response Service in India: Much more than just a number!
Anuja Joshi, Prasad Rajhans, Sagar Galwankar, Bonnie Arquilla, Mamta Swaroop, Stanislaw Stawicki, Bidhan Das, Praveen Aggarwal, Sanjeev Bhoi, OP Kalra
Journal of Emergencies, Trauma and Shock (JETS) July 2013
Read Article
2008 - White Paper on Academic Emergency Medicine in India: Indo-US Joint Working Group (JWG)
AK Das, SB Gupta, SR Joshi, P Aggarwal, LR Murmu, S Bhoi, T Sanson, KP O Keefe,
C Carruba, S Galwankar, B Arquilla, R Mittal
Journal of Association of Physicians, India. 2008;56:789-797
Read Article

____________________________
More similar articles can be found here.
Published Articles on the State of Emergency Medicine in India
.
Plagiarism of Emergency Medicine Literature - Part 2
Plagiarism of Emergency Medicine Literature - Part 2
19-Aug-2013


Editors Desk

Click here to read Part 1
We, at EmergencyMedicine.in, are now maintaining a record of blacklisted individuals & organizations involved in plagiarism or copyright violation of emergency medicine literature in India.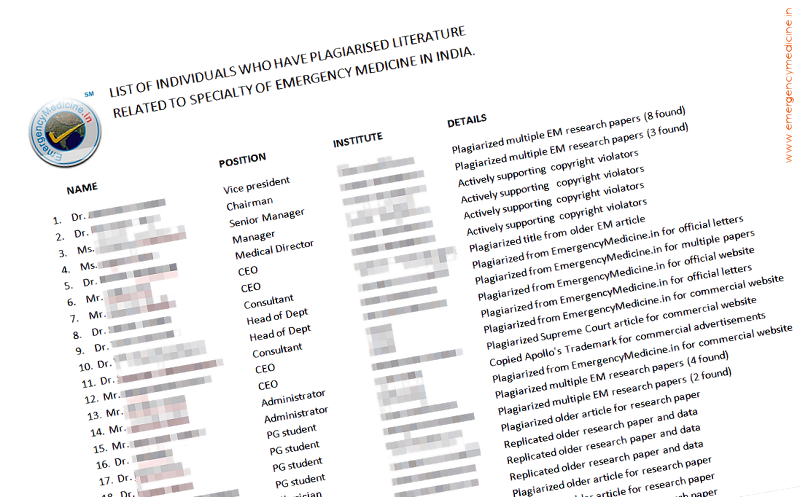 If you have encountered plagiarism or copyright violation in EM literature specific to India, report the incident anonymously to us. We may initiate action at the appropriate time and forum. Click the link below.
_________________________
I WANT TO REPORT A PLAGIA-RAT
_________________________
I JUST WANT TO GIVE A COMMENT ON PLAGIARISM
_________________________
- Administrator
EmergencyMedicine.in
.