Navigation
EmergencyMedicine.in
EMinside
Favorites
Let Others Know
Life Responders
Recommended
Verified Site
Emergency Ultrasound Training in India
Emergency Ultrasound Training in India
05-Jun-2011
Editors Desk

__________________________________________________
Health Ministry to Tighten Ultrasound Training Institutes in India

The Union health ministry on Saturday asked Medical Council of India (MCI) to put in place a tough accreditation system for institutes that teach people how to use ultrasound machines. - Times of India Click here to read full article

MCI Should take Strict Action Against Violators of PC & PNDT Act. Central Supervisory Board Recommends Empowering of National and State Inspection & Monitoring Committees. - Press Information Bureau Click here to read notification
__________________________________________________
The aim of the Health Ministry is to prevent ultrasound use for sex determination of the unborn fetus and stop female foeticide. In India, ultrasound is used primarily for obstetrics & abdominal scans. It use for ECHO, vascular doppler, musculoskeletal imaging, etc, is limited only to teaching and tertiary care hospitals.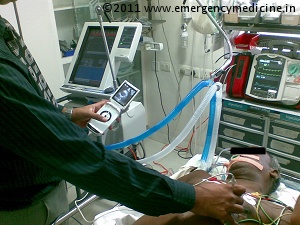 (Image - Emergency physician using handheld ultrasound machine to conduct bedside ECHO on a ventilated patient in the emergency room of an Indian Hospital. ECHO is used to detect pericardial effusion and/or left ventricular dysfunction.)
Since 2006, ultrasound use has been spreading rapidly, in India, within the arena of emergency medicine (EM), trauma care and critical care. Academic and clinical training for use of EM ultrasound in Focused Assessment Sonography in Trauma (FAST), emergency echocardiography, aorta, biliary & renal scans, vascular access procedural guidance, etc, is being conducted at various levels which include classroom based teaching, 6 hour CME sessions, 1-3 day workshops, as well as bedside teaching and 1 year Fellowships.
The first EM ultrasound workshop was conducted by Apollo Hospitals at INTEM 2006, New Delhi. Workshops on emergency & critical care ultrasound, are being conducted regularly by Apollo Hyderabad, Max Hospitals Delhi, Vinayaka Missions Salem, and others. EM ultrasound training is also a part of the preconference workshops during national conferences in EM (EMCON), pediatric EM (NAPEM), critical care, and other emergency medicine CMEs & updates. The more recent EMTECH-AIIMS Emergency Sonography School has come up with an intention to push ultrasound training into emergency departments of medical colleges and to promote ultrasound leadership in India. Apollo Hyderabad also has a 1 year EM Ultrasound Fellowship available for its EM residents during their third year of EM residency.
Both Apollo and EMTECH have clearly excluded obstetrics & gynecology scans from their ultrasound curriculum to prevent conflict with the Fetal Sex Determination Act and also to prevent imparting this skill to the emergency & trauma care physicians. The course at Max Hospital has a module on emergency OBGYN assessment.
Mortality due to acute trauma and cardiac emergencies can be reduced significantly by emergency physicians with ultrasound skills. And the current maternal mortality rate and deaths due to ruptured ectopic pregnancies cannot be reduced if these physicians are not trained in identifying obstetric emergencies quickly using bedside ultrasound.
How the Health Ministry & MCI plan to place an accreditation system for various training institutes remains to be seen. A misplaced thought can lead to, halt in the delivery of an important skill of rapid emergency care, or allow the monopoly of one training institute. A curb on mobile/pocket ultrasound machines will lead to non-availability of the ultrasound at the patient bedside, with resultant delay in lifesaving & definitive care. The possibility of Indian cardiologists and emergency physicians conducting a rapid bedside/prehospital ECHO & FAST scans using their pocket ultrasound machines will become a distant dream, thanks to the Ministry's single minded decision.
The full potential of emergency ultrasound can be seen in upcoming WINFOCUS-2011 conference at AIIMS New Delhi, in November this year. This conference is being endorsed by AIIMS, Indian Society of Critical Care and the Society of Emergency Medicine India (SEMI).
Click here to see the WINFOCUS-2011 Brochure
(www.winfocus.org/world/delhi2011)
- EmergencyMedicine.in
Copyright ©2011 EmergencyMedicine.in All Rights Reserved.
Unauthorized reproduction of this article is prohibited without written permission from the administrator
DEMO OF HANDHELD ULTRASOUND
If not loading on this site,
Click here to watch this video on YouTube
.
Post Comment
Please Login to Post a Comment.