Navigation
EmergencyMedicine.in
EMinside
Favorites
Let Others Know
Life Responders
Recommended
Verified Site
Revival of Society of Emergency Medicine India
Revival of Society of Emergency Medicine India
06-Mar-2011
Editors Desk

The Society of Emergency Medicine India (SEMI), in a meeting held at Apollo Hyderabad on 23rd January, outlined strong steps to revive SEMI activites and restore it to its former glory. The meeting followed the conclusion of the Apollo EMPACT workshop.

Image 1 -

Dr. Hariprasad, CEO - Apollo Hospitals Hyderabad and Founding member & Chairman of SEMI, addressing the audience at Apollo EMPACT. Sitting are the various faculty members from Apollo emergency departments.
The SEMI is the oldest and the first Indian organization created for the development of emergency medicine (EM) in India. It was formed way back in 1999 with its first meeting conducted at EMCON 1999, the first Indian National Conference in EM (
Click here for EMCON list
). SEMI was responsible for the accreditation & the spread of the first academic courses in EM (1 year Fellowship in EM) from the year 2000 onwards. These academic courses were started by private institutes & hospitals because the concept of EM was non-existent in the public sector. In fact in the year 2000, SEMI wrote to the Medical Council of India (MCI) and the Diplomate National Board (DNB) for the recognition of EM as a specialty and for its inclusion into the undergraduate & postgraduate curriculum.
Click here to read our earlier article
SEMI had remained a formidable body of Indian emergency physicians for several years. And SEMI is the only organisation representing India on the International Federation of Emergency Medicine (IFEM)
www.ifem.cc
As with most of Indian societies, SEMI was plagued by internal issues, which led to most of the veterans choosing to remain disconnected since the last few years.
With the new office bearers elected in 2010, led by SEMI President Dr. V. P. Chandrasekaran, Head of EM, from Vinayaka Missions University, Salem, the whole organization is set to change. His team and Dr. Chandrasekaran outlined concrete measures for its revival and promised sustained support for the development of EM in India, especially the academic growth. Dr. Chandrasekaran also addressed the audience & faculty at Apollo EMPACT.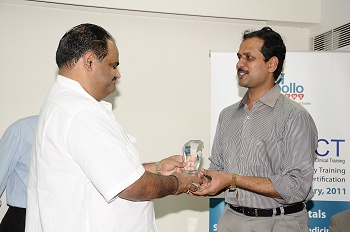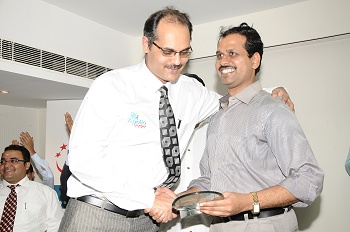 Image 2 -

Dr. V. P. Chandrasekaran, President of SEMI receives a memento for his leadership in Indian EM, from Dr. Hariprasad.
Image 3 -

Dr. V. P. Chandrasekaran hands over a faculty memento to Dr. Mahesh Joshi.
Dr. Chandrasekaran, in one of his first moves, appointed Dr. Hariprasad, CEO of Apollo Hospitals Hyderabad and Dr. Mahesh Joshi, Director Emergency Medicine, Apollo Hospitals Group, as Chairman and Co-Chairman of SEMI, respectively. Dr. Hariprasad is one of the pioneers of EM in India and a founding member of SEMI.
We will be watching SEMI closely for the next few months to see whether promises are delivered. One thing is sure that both Apollo and SEMI are the among the oldest and experienced organizations within the Indian EM community. With interests aligned by Dr. Chandrasekaran, their synergism is likely to lead the next level of development in Indian EM.
- EmergencyMedicine.in
Click here to go to SEMI website
(www.semi.org.in)
Copyright ©2011 EmergencyMedicine.in All Rights Reserved.
Unauthorized copying or reproduction of this article is prohibited without written authorization.
.
Post Comment
Please Login to Post a Comment.