Navigation
EmergencyMedicine.in
EMinside
Favorites
Let Others Know
Life Responders
Recommended
Verified Site
EmergencyMedicine.in Raises Interest for EM Specialty in Andhra Pradesh
EmergencyMedicine.in Raises Interest for EM Specialty in Andhra Pradesh
02-Jul-2011
Editors Desk

In the next 5 years, emergency medicine (EM) will be the most popular specialty in India. Care of emergency patients will be a top priority. And EM research will be the main driving force! said Dr. Imron Subhan, Founder & Administrator of EmergencyMedicine.in, addressing medical students at a research conference in Kadapa, Andhra Pradesh.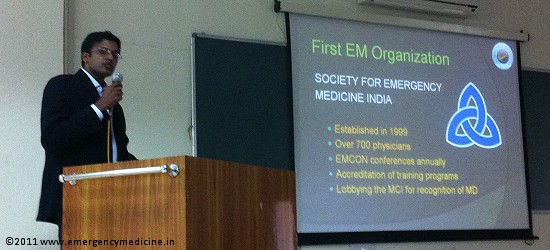 Image - Dr. Imron Subhan, Founder & Administrator of EmergencyMedicine.in addressing medical students on EM and EM Research.

RIMSCON 2011, is the first South Indian Medical Student Research Conference organised at Rajiv Gandhi Institute of Medical Sciences, Kadapa, AP. The conference was attended by more than 400 delegates from surrounding medical colleges of Andhra Pradesh, Karnataka and Tamil Nadu.
Seran Reddy, Organizing Secretary for RIMSCON, said that this conference was structured to introduce and encourage research activity within the medical student community in South India. He said that EM was a specialty which was generating a lot of interest and therefore welcomed a talk on EM and EM Research.
Dr. Imron, who is also a reviewer for the International Journal of Emergency Medicine - IJEM (
Click here to go to IJEM
), introduced the concept of EM, various EM departments & training programs available in India, as well as the career opportunities which are currently available. He said that EM research was one of the important subspecialties of EM and that it had a tremendous scope in India since there is very limited data available on emergency patients.
- EmergencyMedicine.in

Copyright ©2011 EmergencyMedicine.in All Rights Reserved.
Unauthorized reproduction of this article is prohibited without written permission from the administrator
.
Post Comment
Please Login to Post a Comment.