MD Emergency Medicine (MCI Recognised)
Posted by webmaster on November 02 2010 04:45:39
---
Medical colleges in India which have MCI recognised postgraduate seats for MD (Emergency Medicine)

















The following are the medical colleges in India with 3 year postgraduate training in emergency medicine (MD-Emergency Medicine) which are approved by the Medical Council of India (MCI).
Updated Oct 2014
_________________________________________________________

Andhra Pradesh
2011 - 02 seats - Narayana Medical College, Nellore
2012 - 02 seats - Kamineni Institute of Medical Sciences, Narketpally
2012 - 02 seats - P E S Institute Of Medical Sciences and Research, Kuppam
2014 - 02 seats - Sri Venkateshwara Institute of Medical Sciences, Tirupati

Assam
2013 - 02 seats - Guwahati Medical College, Guwahati

Gujarat
2010 - 02 seats - B J Medical College, Ahmedabad
2010 - 02 seats - Smt. N.H.L.Municipal Medical College, Ahmedabad
2011 - 01 seats - Medical College, Baroda
2014 - 02 seats - Government Medical College, Surat

Karnataka
2011 - 01 seats - St. Johns Medical College, Bangalore

(Seat derecognized in Aug 2014)


2011 - 02 seats - Vydehi Institute Of Medical Sciences & Research Centre, Bangalore

(1 seat derecognized in Sep 2014)


2012 - 03 seats - S S Institute of Medical Sciences & Research Centre, Davangere
2013 - 02 seats - Kempegowda Institute of Medical Sciences, Bangalore
2014 - 02 seats - JSS Medical College, Mysore
2014 - 02 seats - MS Ramaiah Medical College, Bangalore
2014 - 03 seats - JJM Medical College, Davanagere

Kerala
2012 - 02 seats - Academy of Medical Sciences, Pariyaram, Kannur
2012 - 02 seats - Amrita School of Medicine, Elamkara, Kochi
2012 - 02 seats - Govt. Medical College, Kozhikode, Calicut
2012 - 02 seats - Jubilee Mission Medical College & Research Institute, Thrissur

Maharashtra
2012 - 02 seats - Padmashree Dr. D.Y.Patil Medical College, Navi Mumbai
2013 - 02 seats - Mahatma Gandhi Missions Medical College, Navi Mumbai
2014 - 02 seats - DY Patil Medical College Hospital & Research Centre, Pimpri, Pune

Tamil Nadu
2012 - 02 seats - Vinayaka Missions Kirupananda Variyar Medical College, Salem


2013 - 02 seats - Sri Ramachandra Medical College & Research Institute, Chennai




Note - Derecognized colleges will normally correct their deficiencies and will reapply to the MCI for recognition. Candidates are advised to verify this information directly with the concerned colleges.
_________________________________________________________
List of colleges teaching PG courses on the MCI website (Click Here)
Go the MCI official website www.mciindia.org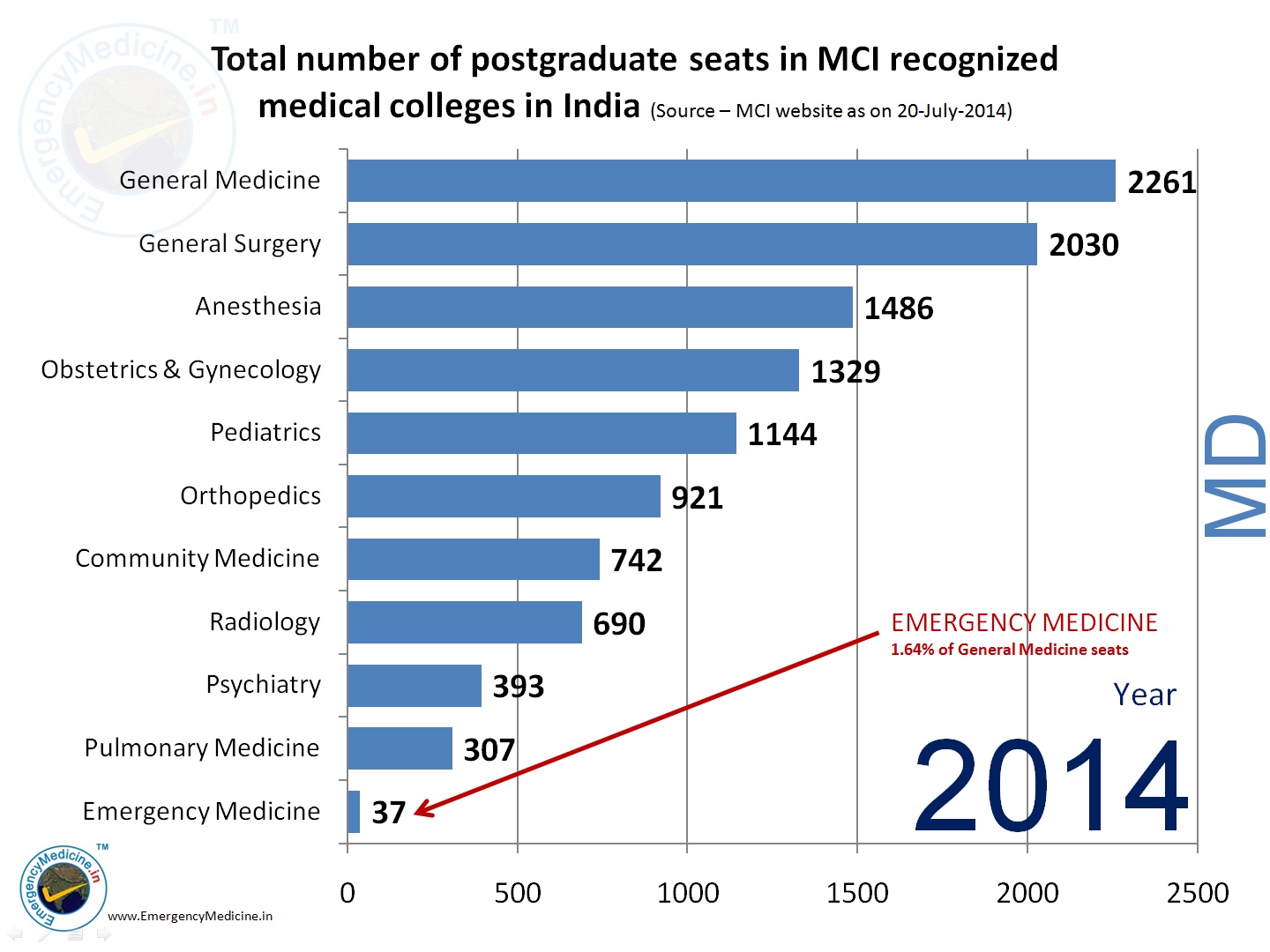 Total number of postgraduates seats in MCI recognized medical colleges in India and proportion of MD Emergency Medicine. (July 2014)





Other related articles
EM was recognized in India more than 22 years ago
Emergency medicine officially recognized in India
Six more medical colleges in India start MD Emergency Medicine
MCI to obtain emergency medicine curriculum from DNB
Vinayaka Missions Hospital Salem gets MD Emergency Medicine
AIIMS to start MD Emergency Medicine from July 2012
Postgraduate seats in MCI recognized medical colleges
Almost 3 years up but no curriculum from MD EM



Copyright © 2010-2014 EmergencyMedicine.in All Rights Reserved.
Unauthorized reproduction of this article is prohibited without written permission from the administrator


.