Study of Emergency Response Service in India - EMRI Model
Posted by webmaster on May 28 2009 08:53:40
---
Study of Emergency Response Service in India - EMRI Model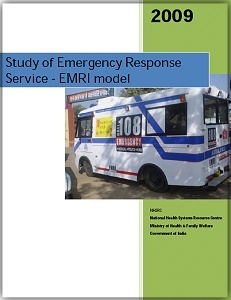 A much discussed and successful public private partnership model for ERS (Emergency Response Service) is the 108 Emergency Service being managed and operationalised by EMRI (Emergency Management and Research Institute) in many states in India like Andhra Pradesh, Gujarat, Uttarakhand, and Rajasthan with around 1500 ambulances running. The 108 number in India aims to be equivalent to 911 of the United States. EMRI has been operational since August 2005.

The EMRI managed ERS in Andhra Pradesh has become a bench-mark for ERS in India and various other states are in the process of adopting the EMRI model. This had called for a review of the original EMRI model of Andhra Pradesh to draw lessons for designing ERS in other states in India.

The study on Emergency Response Services, with specific reference to the EMRI (Emergency Management & Research Institute) model in states like Andhra Pradesh and Gujarat, had been commissioned under the National Rural Health Mission (NRHM), Ministry of Health & Family Welfare, Government of India, in November 2008, at the request of Shri G.C. Chaturvedi (Additional Secretary and Mission Director). A team from the National Health Systems Resource Centre (NHSRC) is conducting this landmark analysis.

The aims of this study are divided in two parts

First Part (Overview Appraisal)
Interviews with EMRI, collection of key documents and analysis of data presented by EMRI to understand and recommend on utilisation, requirements, effectiveness and efficiency of operations, financing arrangements and governance mechanisms and institutional frameworks.

Second part
To undertake a sample study, using a small number of research teams, across three states with the purpose of
a. Validating data presented by EMRI.
b. Understand further on patterns of use, and equity issues.
c. Examine HR issues related to service delivery.
d. Look at quality of service delivery


The widely awaited findings of the first part have been made available by the Ministry of Health & Family Welfare.(mohfw.nic.in)

The full document can be viewed at
Study of Emergency Response Service (in India) - EMRI Model

.