Bureaucracies and Power: Examining the Medical Council of India and the Development of Emergency Medicine in India
Posted by webmaster on June 11 2020 08:04:31
---
Bureaucracies and Power: Examining the Medical Council of India and the Development of Emergency Medicine in India
11-Jun-2020
Journal Article




Reference/share this article

- https://www.emergencymedicine.in/current/news.php?readmore=207

The Medical Council of India applied its bureaucratic power in a manner that negatively impacted emergency medicine training programs and the development of emergency medicine, with implications for availability and quality of emergency care in India.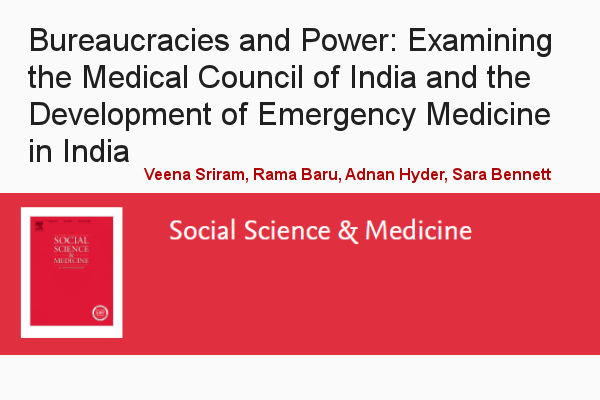 Click Here to Read Full Article

(Paid Access)
Social Science & Medicine
___________________________________________________________

Also Read
Emergency medicine stakeholders faced hurdles in seeking recognition, developing and disseminating a curriculum in medical colleges, securing recognition for courses in medical colleges and clarifying ambiguous training policy guidelines.

Regulating recognition and training for new medical specialties in India: The Case of Emergency Medicine


Veena Sriram, Rama Baru, Sara Bennett


Oxford Academic
Click Here to Read Full Article

(247Kb)
___________________________________________________________

Also Read
Making of New Medical Specialty - A Policy Analysis of the Development of Emergency Medicine in India


Veena Sriram, Adnan Hyder, Sara Bennett


International Journal of Health Policy and Management


.