Navigation
EmergencyMedicine.in
EMinside
Favorites
Let Others Know
Life Responders
Recommended
Verified Site
National Assembly on Pediatric Emergency Medicine (NAPEM) 2011
National Assembly on Pediatric Emergency Medicine (NAPEM) 2011
07-Mar-2011
Editors Desk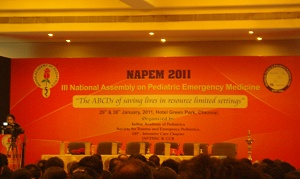 The 3rd National Assembly on Pediatric Emergency Medicine (NAPEM) was held at Chennai on 29-30 January 2011. This conference was organized by the Indian Academy of Pediatrics (IAP) and Indian Society of Trauma & Emergency Pediatrics (STEP).
The preconference workshops included advanced pediatric trauma resuscitation, EM ultrasound and pediatric EM instructor training. In the conference, there were plenty of good talks on pediatric airway management and core pediatric EM. On the research side, there were posters as well as oral presentations. We were pleasantly surprised to see a high degree of EM awareness among the delegates.
A landmark talk, which summarized Indian Pediatric EM, was made by Dr. Suresh David, Professor and Head, Dept of Emergency Medicine at Christian Medical College, Vellore. He saluted NAPEM for breaking away from conventional pediatrics and forming a separate body for pediatric EM. This was similar to what the Society of Emergency Medicine India (SEMI) went through for adult EM in India.
Dr. David said that pitfalls in the existing system, which included ineffective emergency departments (ED), incompetent staffing and poor networking, have prevented the formation of chain of survival. He proposed the introduction of EM into undergraduate curriculum and to recognize EDs as teaching units. His NCERT study highlighted that there were only 4 medical colleges which had training programs in EM, for a country of over a billion people. He proposed starting MD (EM), DNB (EM), DNB (Pediatric EM) and Fellowship in Pediatric EM, as soon as possible. His dream for India was building a safety network of emergency care and pediatric emergency care.
Pediatric EM was recognized as a subspecialty by the Medical Council of India (MCI) in 2009 and the first seats are under Dr. MGR University in Tamil Nadu.
Pediatric EM is a relatively new specialty in India and it will take some time for hospitals & pediatric professionals to understand that dedicated pediatric emergency specialists should direct the resuscitation & treatment of seriously ill children.
EmergencyMedicine.in also salutes NAPEM !
.
Post Comment
Please Login to Post a Comment.